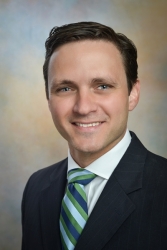 Hamilton, NJ, March 12, 2019 --(
PR.com
)-- David M. Slaugenhoup has been promoted to Assistant Vice President within RT Specialty's National Environmental and Construction Professional Liability Practice. Since joining the New Day team in 2013, he has worked diligently to help their retail broker clients representing the construction, manufacturing and commercial real estate industries to strategically manage wide-ranging liability issues and exposures, while expanding the organization's book of business in these fields.
"David has been a tremendous asset to this team for the past six years," says Jeff Slivka, President – National Environmental and Construction Professional Liability Practice. "His grasp of the industry and deep understanding of each client's risk management needs have been integral to our success and ongoing growth. We are extremely appreciative of his leadership skills, work ethic and burning desire to create new business."
Slaugenhoup joined the New Day team with more than 10 years of environmental consulting experience. Over the past six years, he has expanded these skills by achieving the Registered Professional Liability Underwriter (RPLU) designation and addressing leading industry forums like the Construction Environmental Conference hosted by the Associated General Contractors (AGC) and Construction Defect, Claims & Litigation Strategies ExecuSummit on topics that explored the identification and strategic transfer of environmental construction risks.
Previously, Slaugenhoup served as the Remedial Investigation Leader/Vapor Intrusion Manager at Kleinfelder, where he managed hundreds of vapor intrusion assessments at residential, commercial and industrial properties. He also led efforts to successfully become the first to obtain site-specific groundwater screening levels from the New Jersey Department of Environmental Protection (NJDEP) using the NJ-specific Johnson & Ettinger model.
A resident of Yardley, Pennsylvania, Slaugenhoup holds a Bachelor of Science Degree in Environmental Resource Management (ERM) from Pennsylvania State University. He can be reached at david.slaugenhoup@rtspecialty.com or 609-528-3902.
About R-T Specialty, LLC
RT New Day, a division of R-T Specialty, LLC, is a specialty resource for agents and brokers, assisting them and their clients find appropriate, high-quality environmental and construction-related professional liability insurance coverages. RT New Day offers agents and brokers single-point access to an ample portfolio of products and services provided by the nation's largest environmental and professional liability insurance providers. In California: R-T Specialty Insurance Services, LLC License #0G97516. For more information please visit newday.rtspecialty.com or call 609-298-3516.