NewCore Wireless Selects Summa Networks HSS and HLR to Power Rural Carriers' Voice and Data Services
Leading hosted wireless technology provider NewCore Wireless to deliver next generation voice and data solutions thanks to Summa Networks' Home Subscriber Server (HSS).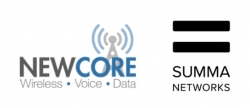 St. Cloud, MN, March 27, 2019 --(
PR.com
)-- NewCore Wireless, one of the leading providers of hosted wireless technology, has selected Summa Networks' NextGen HSS to help rural carriers expand their business to meet their subscribers' next generation voice and data needs. Summa Networks' carrier-grade NextGen HSS combines LTE HSS, IMS HSS and HLR (Home Location Register) in a single piece of software, allowing seamless interworking between 3G, 4G, 4.5G and 5G.
NewCore Wireless enables rural carriers to offer cost-effective wireless services under their own brand, but through a shared switching platform. Thanks to the integration of Summa Networks' HSS all carriers can further customize their services while keeping consistent margins.
"NewCore Wireless is known for providing innovative solutions to rural carriers. The growing amount of subscribers in these areas need strong connectivity for a variety of use cases and we were looking for an HSS/HLR solution ready to scale up for T1 demands and to evolve to next generation networks like 5G," said Albert Kangas, General Manager and chief operations officer of NewCore Wireless. "We found the perfect solution in Summa Networks' NextGen HSS."
"We are happy we could meet the needs of flexibility and expandability of NewCore Wireless in this project. Our NextGen HSS is indeed particularly suitable for smaller carriers that want to add margin-rich services to their offer and T1 operators that look for a technology that can easily evolve with the industry standards," explained Javier Martin, chief executive officer of Summa Networks. "We are confident that our software will keep on meeting the future demands of NewCore Wireless' subscribers."
NewCore Wireless is exhibiting at the Mobile Carrier Show 2019 which will take place in Denver (CO), 8-10 April.
About NewCore Wireless
NewCore Wireless is a leading hosted full-service wireless switching provider with services and solutions chosen by rural carriers nationwide as they expand their businesses to meet their subscribers' next-generation needs. NewCore provides strong solutions for all your wireless needs including 600 Mhz, CBRS and private LTE services.
About Summa Networks
Summa Networks is exclusively specialized in the development of state-of-the-art telecom software that ensure carrier-grade performance. Our unique NextGen HSS reaches further than current HSS and HLR solutions and can be seamlessly deployed in-house and in Cloud environments. It enables smooth interworking between 3G and 4G thanks to LTE HSS, IMS HSS and HLR open standard technologies in one piece of software and is ready to evolve into 5G. Summa Networks is the solution of choice for IoT applications, VoLTE in-a-box and VoWiFi. Summa Networks is part of Within Reach Holding, which prides itself in the success of companies such as the Dutch and German telecom provider Voiceworks, the leading German PBX provider Swyx and the French software company Centile. Website:
www.summanetworks.com
Contact
Summa Networks
Francesca Rigamonti
+34 911590514

Contact