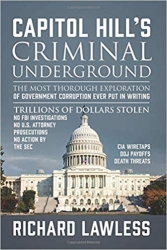 Murrieta, CA, March 29, 2019 --(
PR.com
)-- Richard Lawless, the author of "
Capitol Hill's Criminal Underground
," has agreed to share what he claims could be a record-breaking SEC whistleblower reward with all contributors to his Go Fund Me Account, "
Capitol Hill's Criminal Underground Fund
."
Mr. Lawless claims to have uncovered a multi-billion-dollar municipal bond fraud.
The Securities and Exchange Commission says the following:
"Assistance and information from a whistleblower who knows of possible securities law violations can be among the most powerful weapons in the law enforcement arsenal of the Securities and Exchange Commission. Through their knowledge of the circumstances and individuals involved, whistleblowers can help the Commission identify possible fraud and other violations much earlier than might otherwise have been possible. That allows the Commission to minimize the harm to investors, better preserve the integrity of the United States' capital markets, and more swiftly hold accountable those responsible for unlawful conduct.
The Commission is authorized by Congress to provide monetary awards to eligible individuals who come forward with high-quality original information that leads to a Commission enforcement action in which over $1,000,000 in sanctions is ordered. The range for awards is between 10% and 30% of the money collected."
Mr. lawless is the author of "Capitol Hill's Criminal Underground." The book was the result of a
three-year investigation
in which Mr. Lawless worked with the FBI, attorneys general and U.S. Intelligence Services to uncover an alleged ongoing criminal enterprise. As stated in the book, Mr. Lawless filed multiple SEC claims and has reported these alleged crimes to the FBI numerous times.