Squire Technologies Partner with Summa Networks to Expand Its Offering to Its North American Customers
Squire Technologies expands its core network offering for MNOs, MVNOs and MVNEs by adding Summa Networks' HSS and HLR to their stable of signaling products.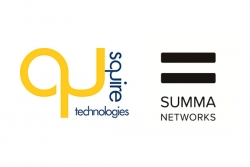 Dorchester, United Kingdom, April 08, 2019 --(
PR.com
)-- Squire Technologies Limited are a UK based signaling specialist to the telecoms industry. They provide carrier grade core network signaling products and solutions such as Gateway MSC (GMSC), Signalling Transfer Point (STP), Diameter Suite (DRA, DEA, IWF) & SMSC to Tier 1 and Tier 2 providers and MVNOs (Mobile Virtual Network Operators) and MVNEs (Mobile Virtual Network Enablers). They are expanding their offering to their customers by including Summa Networks' NextGen HSS (Home Subscriber Server) and HLR (Home Location Register) in their product portfolio.
Summa Networks' carrier grade HLR/HSS technology for MVNOs and other broadband and telecommunications service providers combines LTE HSS, IMS HSS and HLR in a single piece of software and enables seamless interworking between 3G, 4G and 5G. NextGen HSS is particularly suitable for IoT deployments.
"Squire Technologies help carriers overcome signaling interworking challenges across all generations of networks, allowing them to future proof their core network while maintaining backward compatibility. Our biggest strength is sharing what we have learnt working for 400+ operators in 150+ countries in the last 20 years. We choose partners who have similar ability and experience to adapt to the interworking challenges, and we have pleased to have chosen Summa Networks," says Mike Peck, General Manager - Sales, at Squire Technologies.
According to Javier Martin, Chief Executive Officer at Summa Networks, "Our NextGen HSS starts to be recognized in the industry as a great choice for legacy replacement on the way to explore IoT and 5G as new lines of business for carriers of all sizes and geographies. The joint solution with Squire products goes beyond the HLR/HSS reach and represents an opportunity for carriers of any kind to own their subscribers' data and therefore customize their services to optimize their revenues. We recommend it for a complete and scalable offer, adaptable to the needs of each Network Operator."
Squire Technologies will exhibit at the Mobile Carrier Show 2019 which will take place in Denver (CO), 8-10 April.
About Squire Technologies
Squire Technologies Limited are a UK based signaling interconnect specialist to the telecoms industry, providing product solutions and expertise in LTE, VoLTE, VoIP, SS7 and Network Fraud Prevention markets.
With an enviable reputation for finding innovative solutions to complex networking challenges, they deliver to Tier 1 and Tier 2 providers in the fixed, mobile, alternative and virtual space including MVNO's, ITSP's, wholesale carriers, equipment vendors, integrators and solution providers.
Operating since 2001 and with deployments in over 120 countries, they combine a comprehensive range of proven, carrier grade network products with cutting edge, flexible interface technology.
About Summa Networks
Summa Networks is exclusively specialized in the development of state-of-the-art telecom software that ensure carrier-grade performance. Our unique NextGen HSS reaches further than current HSS and HLR solutions and can be seamlessly deployed in-house and in cloud environments. It enables smooth interworking between 3G and 4G thanks to LTE HSS, IMS HSS and HLR open standard technologies in one piece of software and is ready to evolve into 5G. Summa Networks is the solution of choice for IoT applications, VoLTE in-a-box and VoWiFi. Summa Networks is part of Within Reach Holding; which prides itself in the success of companies such as the Dutch and German telecom provider, Voiceworks; the leading German PBX provider, Swyx; and the French software company, Centile. Website:
www.summanetworks.com
Contact
Summa Networks
Francesca Rigamonti
+34 911590514

Contact