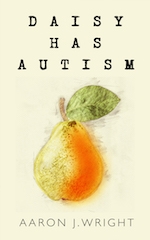 Oakland, CA, April 08, 2019 --(
PR.com
)-- IndieGo Publishing is proud to announce the release of "Daisy Has Autism," by Aaron J. Wright, a work of creative nonfiction that serves as an act of public participation and a call to action. Aaron J. Wright is the product of a public education and a member of a family deeply entrenched in public education. He is a nurse practitioner and the parent of two children, one with autism. Professionally, he has worked with severely injured adults and children for nearly two decades. Outside of work, he has been a staunch advocate for disabled students in public education and youth sports. He firmly believes in the benefits of a public education and access.
"It is my hope that Daisy Has Autism will inspire change in the education of special needs children," says Mr. Wright. "I chose to tell the story of one family's harrowing experience with public special education as a way to capture the universal experience of millions of special needs families and their struggles to educate their children according to their unique needs."
In honor of World Autism Month, Aaron J. Wright will speak about autism, educating special needs children, and his book "Daisy Has Autism" on April 11, 2019, at The GoodHome Group in Davis, California, from 6:30 to 8:00 p.m. The GoodHome Group is located at 334 Madson Place, Davis, California, 95618. Paperback copies of "Daisy Has Autism" will be available for purchase, and refreshments will be served.
A special needs parent and early reviewer writes, "While the subject matter of Daisy Has Autism is sobering, the story is engrossing and entirely pleasurable to read. Told mainly from a father's perspective, the story unfolds with vivid images of Davis, California, and its environs, with well-crafted characters and resonating parenting experiences. Symbolism artfully draws parallels between the characters' experiences and the cycles of life and nature. The story isn't preachy but instead is told with humility, humor, and hard-won wisdom. For those who know little about the world of special education, it is an illuminating read. And for those who have had a similar journey, it resonates and validates their experience."
"Daisy Has Autism" is available as a paperback (9781946824356), a hardcover edition (9781946824318), and an ebook (9781946824363) wherever good books are sold. Bulk purchases are available at a wholesale discount through the iPage ordering system of Ingram Book Group.