MVP Plant Wins the GOLD Award for Plant Engineering 2018 Product of the Year
CMMS Data Group's Flagship Product Announced as the GOLD Maintenance Software Category Winner.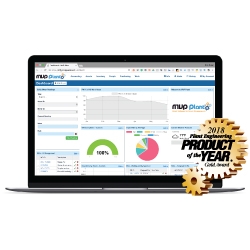 Chicago, IL, April 10, 2019 --(
PR.com
)-- MVP Plant, CMMS Data Group's cutting-edge Computerized Maintenance Management System (CMMS), won the GOLD award for Plant Engineering 2018 Product of the Year thanks to newly implemented cloud features that increase productivity and efficiency for maintenance, facilities, reliability, and inventory professionals.
Representatives from CMMS Data Group accepted the distinguished award at the annual Engineering Awards in Manufacturing Dinner in downtown Chicago on Monday, April 8, 2019.
The Plant Engineering Product of the Year program celebrates new software releases and features across a variety of manufacturing and non-manufacturing industries by awarding the yearly honor and featuring the winner on the manufacturing magazine's website.
Ruth Hughes, Founder and CEO of CMMS Data Group, says Plant Engineering's recognition of MVP Plant is a testament to the software's success.
"To ensure that MVP Plant remains cutting-edge, the release is based on mobility, today's technology, and customer feedback. Customers get to experience first-hand our development team's expertise and dedication to excellence and technology," said Hughes.
New features include in-line and batch editing, custom fields, OPC UA integration, an Informatica connector, an Excel OData feed, and multiple languages also available on the Mobile CMMS app.
These features increase the level of customization in the system and further facilitate automated data collection. The Informatica connector allows for a near-seamless and user-friendly integration to other major platforms, including SAP, Oracle, and the rest of the Informatica cloud integration ecosystem.
"Better data gives you better reports and as a result, better decisions can be made to increase reliability, productivity, customer satisfaction, and bottom-line profits," explains Ruth Hughes.
Of the new version, Wayne Stewart, Director of IT, said, "Due to the technologies used in our next-generation user interface, the latest version delivers new functionality, a record number of customer enhancements, and turnkey solutions for integrating with other critical systems."
About CMMS Data Group
CMMS Data Group, founded in 2000, is the market leader in CMMS software and services, providing time- and money-saving solutions to maintenance, facilities, reliability, and inventory professionals to not only increase reliability, productivity, profitability, and customer satisfaction, but to make their jobs easier. Led by MVP Plant™ CMMS software and its mobile CMMS app, the company's portfolio also includes MP2™ CMMS software services and MVP Capture™ add-on, an online and offline mobile CMMS solution for MP2.
For more information, please visit CMMS Data Group at: https://www.cdg.com
Contact
CMMS Data Group
Nick Kissel
(312) 957-8575
www.cdg.com

Contact