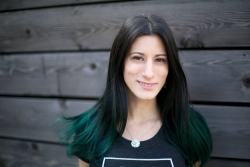 Philadelphia, PA, April 10, 2019 --(
PR.com
)-- Jess Edelstein, creator of
PiperWai Natural Deodorant
-- a Shark Tank featured product that she originally concocted in her kitchen, exited the company on April 1, 2019, selling her 50% stake in PiperWai, LLC. Edelstein co-founded PiperWai in early 2014.
PiperWai Natural Deodorant was the first of its kind in a rapidly growing market. The sensitive skin-friendly formula uses activated charcoal to absorb sweat and neutralize odor, acting as an effective alternative to conventional antiperspirant.
"This has been such an epic journey," says Edelstein. "The opportunity to build an impactful business based on a product that I created, and to hear customers call that product 'life-changing' has been incredibly humbling and rewarding. In the past five years, I learned so much about what it takes to build a successful startup from the ground up. I wish PiperWai and my co-founder Sarah continued success in the future as I focus my attention on building my next venture."
About Jess Edelstein:
A dynamic visionary and natural-born entrepreneur, Jess Edelstein is a proud member of EY Winning Women class of 2017, Forbes 30 Under 30 class of 2018, and was recognized by Main Line Today Women on the Move last fall. Besides season 7 of Shark Tank, she has appeared on HSN, CNBC's SquaukBox, AOL Build, and regularly speaks at conferences like NextGen and Well Summit about entrepreneurship and the wellness industry. A Reiki master in training, Edelstein is passionate about helping others discover their full potential. Edelstein lives in South Philadelphia with her husband Marc Levy (of Philly web agency The 215 Guys) and their rescue mutt, Velma.
Contact info:
hi@jessedelstein.com
Instagram @jessedels10
LinkedIn @jessedels10