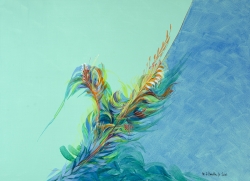 New York, NY, April 10, 2019 --(
PR.com
)-- A painting never before seen by the public will be uncrated Friday evening at Usagi NY during the reception for "A Celebration of Joy: Myron Barnstone's Hidden Art." The reception, 6-10 p.m., at the upscale Brooklyn gallery marks the first New York exhibit for the late Myron Barnstone. The show features 60 original works that have been locked away for nearly half a century.
Barnstone painted the crated piece for a friend in 1968, after an internationally acclaimed exhibit in Paris, and before he hid his own work to devote the next 35 years of his life to teaching a new generation of artists the fundamentals of classical drawing. Many Barnstone Studios alumni have distinguished themselves in art and design related careers. His own work remained archived until after his death at the age of 83 in 2016, when daughter Catherine "Cat" Barnstone Szafran assumed the helm of Barnstone Studios, and started sharing her late father's extraordinary work with the world.
Barnstone's vibrant expressionist style has been compared to "School of London" artists such as RB Kitaj, a personal friend of Barnstone's; Francis Bacon and Lucien Freud.
Other firsts in store during the Barnstone reception at Usagi Friday include an interactive immersion into archival video of one of Barnstone's classes; a silent auction to benefit the Barnstone Art Education project, and a pop-up art resources store, selling hand-crafted red oak calipers, DVDs of Barnstone drawing courses, and posters of Barnstone's art heritage, linking him directly with such iconic masters as da Vinci and Michelangelo.
Exclusive to visitors to the Usagi exhibit will be 16 x 20 gallery-quality prints of original Barnstone paintings and drawings. Only one print in that size will be made, and a certificate of authenticity accompanies each of the limited edition pieces..
Gallery hours are 8 a.m. - 6 p.m. Monday through Friday; 11 a.m. - 5 p.m. Saturday and Sunday. "A Celebration of Joy: Myron Barnstone's Hidden Art" will run through April 17. Usagi is located at 163 Plymouth St., Brooklyn, NY, 11201.
Barnstone Studios at 202 A East Main Street, Thurmont, Maryland, is dedicated to fostering an appreciation of fine art, and helping to make art education accessible to all who desire to develop their talent and enrich their lives. Learn more at
BarnstoneStudios.com
, or by calling 301.788.6241.