Panacea Earns Reader's Choice Award for Best Hemp Company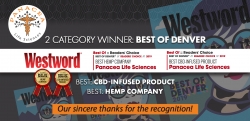 Golden, CO, April 11, 2019 --(
PR.com
)-- Panacea Life Sciences, a medical grade hemp oil company, claims two Best of Denver awards for Best Hemp Company and Best CBD-Infused Product.
The "Best of" Reader's Choice awards were announced just as Panacea completed an expansion into their new 43,000 square foot facility in Golden, Colorado. An investment in additional capital equipment was required in order to meet the needs of their growing domestic and international customer base, resulting in a ten-fold increase in extraction and production capacity of their isolate and distillate hemp oil.
"Our new soft gel equipment will produce 2 million soft gels per day and will enable us to produce vegan soft gels and expand our range of products for human and pets alike," explains Nick Cavarra, Vice President of Sales at Panacea. "In addition, we will be adding equipment for edibles and tinctures along with a new bottling line to meet the needs of our customers and white label partners. We continue to seek strategic alliances to expand the medicinal value and usage of CBD to the benefits of our customers."
Panacea prides themselves on being scientifically-driven and medically-focused. As one of the only vertically integrated hemp companies, they manage the entire extraction process in-house from sourcing the plants to the final product. This gives them control over product testing and quality assurance at every single step of the product development process.
"Panacea strives to be a global leader in medical grade hemp products. We predict that the hemp-based product customer base will move beyond curiosity and take a serious look at adopting our products rather than other pharmaceutical alternatives. As part of this move toward adoption, Panacea's sales organization has to be ready for this explosion in demand," states Dr. James Baumgartner, President of Panacea Life Sciences. "Panacea's revenues have tripled in the last two months and we see this trend continuing."
Panacea's mission is to develop natural hemp oil alternatives to alleviate conditions, such as chronic pain, anxiety, or sleep issues instead of taking addictive opiate-based painkillers and medications that cause unpleasant side effects. Panacea offers a line of THC-free human and animal CBD products, such as sublingual tablets, soft gels and topicals. Panacea products can be purchased online at
https://panacealife.com
.
Contact
Panacea Life Sciences
Nick Cavarra
303-886-5538

Contact