Lily Lisa Special Guest at "China Luxury Group" Hurun Art List Release in Hong Kong
2019 Hurun Art List 12th Anniversary Awards Celebration.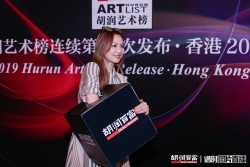 Hollywood, CA, April 15, 2019 --(
PR.com
)-- The "2019 Hurun Art List" Release was held at the Shangri-La Hotel, Hong Kong Island. The luxury group "Huron Report" released its 12th consecutive year of the "Hurun Art List." Special Guest, Lily Lisa attended this event, along with many well-known, accomplished artists from around the globe.
Hurun Report and Conrad Maldives, Rangali Island teamed up to prepare a surprise gift in the form of a lucky draw. Sinclair Lu, President and Group Publisher of Hurun Report announced special guest Lily Lisa to draw the winning lottery ticket. Also known as Lucky Lily Lisa, and wearing her Lily Lisa Brand, she drew the winning lottery ticket for guest Renzhen Investment Holdings' Zhuo Zhang. His gift, a round-trip, three night luxury water villa coupon at Conrad Maldives, Rangali Island, valued at over $8,000 USD.
Ms Lisa's passion for art and all things beautiful is very apparent in her appearance. Always stylish, Ms. Lisa has designed her simple and elegant Lily Lisa Brand to express her appreciation for quality fabrics and unique style.
The "Hurun Art List" is based on the total number of works of the 2018 public auction market in China, ranking the top 100 Chinese artists as "National Treasures." The artists on the list are all living artists in mainland China, Hong Kong, Macao and Taiwan, and widely recognized by the art world and the attention of the media.
It is worth noting that this year, Cui Ruzhen has once again won the top spot with a total turnover of nearly 900 million yean of art. So far, Cui Ruzhen has won the championship for five consecutive years.
President Sinclair Lu said: "It is particularly meaningful to come to Hong Kong to release the '2019 Hurun Art List' for the first time on the 20th anniversary of Hurun Report. Published for 12 years, the ]Hurun Art List' has become an entrepreneur and international collector's guide. 'The Hurun Art List' has witnessed the rise of Chinese art in the global marker; in particular, the number of Chinese Painting artists on the list has risen from 20% in 2008 to 61% in 2019. Chinese entrepreneurs are now more willing to collect art themselves."
Ms. Lisa states that, "It has been such an honor to attend the China luxury group's Hurun Report's Art List Release in Hong Kong."
Lily Lisa has a love for the Arts, fashion and entertainment. She always says, "Follow your heart and in all you do, do the right thing."
Contact
TRC - The Right Connection
Norma Dalke
310-776-6368

Contact