JOA, Subconsultant to Hout Construction Services, Inc., Begins Work on Transit Facility Projects for the Orange County Transportation Authority
The project team, which includes Hout Construction and subconsultant JOA, will provide program and construction management services on projects at bus bases, transportation centers, and park-and-ride facilities.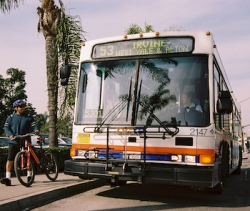 Newport Beach, CA, April 26, 2019 --(
PR.com
)-- JOA, a leader in project and construction management for public, private, and institutional clients in Southern California, announced today that Hout Construction Services, Inc. (HSC) and subconsultant JOA have been chosen by the Orange County Transportation Authority (OCTA) to oversee project and construction management on current and upcoming transit facility projects.
JOA is working with HCS, a firm specializing in comprehensive planning, engineering, and project/construction management services for transportation and other industries, to provide this project oversight, focusing on projects at bus maintenance/operations facilities (bus bases), transportation centers, and park-and-ride facilities.
JOA and HCS will be responsible for managing projects at five bus bases, five transportation centers, and two park-and-ride facilities. Budgets for the individual construction projects are in the range of $100K-$2M each. In addition, OCTA has identified over twenty individual projects to be completed by 2022.
The two companies' responsibilities include full project and construction management, agency coordination, document control, construction planning and oversight, project controls, monitoring and overseeing design consultants' work, as well as constructability and safety reviews.
"We are very happy to have been selected by the Orange County Transportation Authority for the second time this year," said Jeff Oviedo, President of JOA. "Our combined expertise in all areas of construction and project management gives us the opportunity to provide highly professional services to OCTA as they upgrade facilities around Orange County."
"These improvement projects will have a lasting impact on OCTA's transportation facilities and infrastructure," said Sam Hout, Principal at HCS. "Working with JOA, we will be able to manage multiple projects safely and efficiently, maximizing the efforts of everyone involved."
Work began on the projects starting in April 2019. For more information please visit
joagroup.com
or
www.houtconstruction.com
.
About JOA
JOA is a leading expert in project and construction management for public, private and institutional clients in and around Southern California. With a focus on capital improvement, infrastructure, industrial, retail, and office structures, JOA has over 20 years of experience managing large, complex projects across multiple sites and locations.
Known for its collaborative approach, JOA relies on active communication to build and maintain relationships with contractors, subconsultants, and other key stakeholders. JOA's personnel are trained and equipped with the latest technological tools, whether they be in the areas of safety, quality management, or analysis. JOA's enthusiastic, efficient work style and distinguished design capabilities enable the company to deliver extraordinary results that meet and exceed their clients' expectations.
Contact
JOA
Catherine Green
503-209-3905
joagroup.com

Contact