Trail Tales: SpiceRoads Cycling's New Singletrack Mountain Bike Tours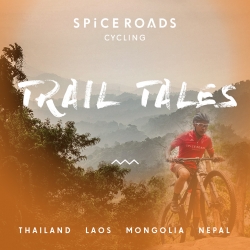 Bangkok, Thailand, May 04, 2019 --(
PR.com
)-- SpiceRoads Cycling, a pioneer in guided cycling holidays in emerging destinations, has just added 5 new singletrack adventure tours to the company's mountain biking segment. It was announced today.
The new lineup of tours features world renowned mountain biking destinations like Northern Thailand, Nepal, Mongolia, and Northern Laos. Itineraries range from 8-12 days and are designed for a range of mountain biking skill levels. Riders can expect exhilarating rides over raw double and single tracks, technical trails, rough dirt roads, and minimal paved surfaces.
"We proudly created these tours in the search for the ultimate mountain biking experience, and are confident they will appeal to discerning mountain bikers," says SpiceRoads Managing Director Daniel Moylan. "Nothing compares to shredding a flowy downhill through the Laotian jungle, or coming down a technical 5,000 m+ pass in the Himalaya. The adrenaline and real feeling of adventure that you get on these trips is unparalleled, and they will certainly be ones for the bucket list!"
SpiceRoads has added 5 new tours that feature the singletrack, untouched wilderness, and authentic local cultures that mountain bikers seek, set in the best mountain biking terrain across Asia. In Chiang Mai Trail Experience, riders will enjoy fantastic riding through the Thai Highlands in what's known as the "Mountain Biking Capital of Southeast Asia," and a relaxing accommodation experience in Thai style. For a more remote Southeast Asian experience, adventurous riders can tackle the rugged hills and valleys of tribal Laos, in Hidden Tribes and Trails of Laos.
This new collection of tours also includes far-flung destinations, like Mountain Biking the Gobi, where riders will explore a remote wilderness that most Mongolians have never even been to, with singletrack through rock gardens and canyons, and a quintessential Mongolian ger camp experience. A true bucket list experience, Annapurna Single Track Circuit, is a mountain biking expedition along the famous trekking route, even over the 5,000+ meter pass of Thorong La- by bike! And for true trail-masters, Everest All-Mountain, is a wild and raw exploration through the singletrack foothills of the Himalaya.
About SpiceRoads Cycling: SpiceRoads Cycling are cycle tour specialists based in Bangkok, Thailand. Founded in 1995, SpiceRoads leads over 10,000 travelers per year on active cycling adventures in 37 destinations worldwide. SpiceRoads offer cycling tours to suit every type of cyclist, from road enthusiasts, to leisure cyclists, to day trippers, to mountain bikers.
For more information about SpiceRoads new mountain bike trips, please contact marketing@spiceroads.com.
Contact
SpiceRoads Co., Ltd.
Luis de Sousa
+66 (0) 2 381 7490
www.spiceroads.com

Contact