Hidden View B&B Voted "Best of Virginia 2019" by Virginia Living Magazine Readers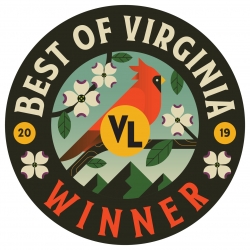 Hillsboro, VA, May 15, 2019 --(
PR.com
)-- Hidden View Bed & Breakfast - a luxury B&B, boutique resort, event venue, and vacation rental in Northern Virginia; and a member of Visit Loudoun and the Loudoun County B&B Guild - is honored to announce that it was voted Best of Virginia 2019 in Virginia Living Magazines' eight annual Best of Virginia Readers' Survey as the Best Bed & Breakfast in the Northern Region.
Virginia Living's Best of Virginia issue is a statewide guide to all that is "best" in Virginia, from dining and shopping, to staying and playing; across the five regions of Virginia - Central, Eastern, Northern, Southwestern, and the Shenandoah Valley. The Best of Virginia 2019 issue, arriving on newsstands throughout the state by May 16, lists the more than 1,500 winners from the magazine's Readers' Survey conducted in January. More than 45,000 people voted in 106 categories, covering the best in Arts, Culture & Entertainment, Living & Recreation, Food & Drink, Shopping, Services, and Accommodations across the state.
"It is an honor to be chosen for this state-level accolade and to be recognized for our commitment to hospitality excellence. At Hidden View, we strive to provide exceptional service, outstanding accommodations, and breath-taking settings to make your visit... extraordinary," said B&B Proprietor and Host, Ray Shields. "For many guests, their stay at Hidden View is celebrating a special event or taking a well-deserved getaway. Whether you're coming as an overnight guest or as a day guest visiting for a special event or occasion; we want your experience to be elegant, delightful and memorable," added Co-Proprietor and Host, Cheri Shields.
Located just outside of the quaint rural Town of Hillsboro, c.1752, 8-miles from both Charles Town and Harper's Ferry, W. Va, and about 45-miles from Washington, DC; Hidden View is close to many wineries, craft breweries, farm-to-table dining, history and heritage, and outdoor recreation activities for lovers of artisanal, epicurean, and culturally rich experiences. For overnight reservations, book online at www.hiddenviewbnb.com.
In addition to Virginia Living Reader's voting Hidden View Bed & Breakfast as Best of Virginia 2019, the Bed & Breakfast was also recently nominated as a finalist in the Loudoun Times-Mirror's 2019 Best of Loudoun voter's survey in three categories: Bed & Breakfast/Country Inn, Hotel/Resort, and Event Venue; and PoshSEVEN's Best of Suburbia 2019 voter survey in the category: Best Resort/Hotel Staycation. "Receiving acknowledgement like these, is no small achievement. Thank you to all of our guests and Hidden View friends and followers who vote for us and enable us to be recognized in these great publications," said Cheri Shields.
About Virginia Living
Virginia Living celebrates all things Virginia - from its people and places, to its deep history and traditions. The highest quality, most widely read lifestyle magazine in the state with readership of over 500,000. Virginia Living's combination of smart, engaging stories and stunning photography and art makes it a must-read for anyone interested in the Old Dominion.
About Hidden View Bed & Breakfast
Experience modern amenities on a private 10-acre estate in the "must visit" destination of Loudoun County, Virginia - the heart of DC's Wine Country. The custom-built ranch manor sits on historic Short Hill Mountain with spectacular breathtaking views of the Blue Ridge Mountains, Loudoun Valley, and the neighboring vineyard. Hidden View, an award-winning B&B, offers five spacious guest room suites each with private ensuite bathroom and fireplace; beautifully landscaped resort-like grounds with gardens, pavilion, pool, fire pits, pond and fountains; and many social spaces and private places for guests to relax and enjoy. Whether you're staying for a night, a well-deserved weekend, or longer... Hidden View is a perfect place for all kinds of celebrations from birthdays and anniversaries to intimate weddings, and from family and friend stay-cations and vacations to business meetings and corporate retreats. For more information and to book online, visit www.hiddenviewbnb.com and follow us on Facebook and Instagram @hiddenviewbnb.
Contact
Hidden View Bed & Breakfast
Cheri Shields
703-669-9306
Www.hiddenviewbnb.com

Contact