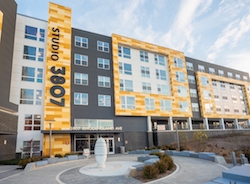 Brentwood, MD, May 17, 2019 --(
PR.com
)-- The vision of the Gateway Arts District is taking form with the opening of Studio 3807, located at 3807 Rhode Island Avenue in Brentwood, MD. The Gateway Arts District was founded in 2001 through a collaborative effort of artists, Prince George's County and four municipalities (Brentwood, North Brentwood, Hyattsville and Mount Rainier) to create an attractive and inclusive community to develop an arts space designed to support artists' living and working. The goal of the Gateway Arts District is to use the arts to promote economic development and use economic development to promote the arts. Today there are over 500 artists living, working and exhibiting in the State's largest arts district.
"Art is the heart and soul of the Studio 3807 – it's what brings the building to life and creates a rich and diverse community. The Arts play a very critical role in society; it forces us to push boundaries and take an honest and reflective look at ourselves. As part of the development of Studio 3807, our goal has been to promote the arts and the artists of the Gateway Arts District," said Peter Siegel, Principal and CEO, Landex Development, LLC.
Landex Development, LLC, the developer of Studio 3807, has embraced the vision of the Gateway Arts District through a dynamic and multi-dimensional approach to integrate local art into the physical, social and economic aspects of the building. Studio 3807, which was completed in September 2018 and is currently 76% leased, was conceived with the goal of promoting local art and artists. Landex collaborated with the artists and other stakeholders to design a building that is inclusive of this talented and diverse community.
Working with local artist, John Paradiso, Landex acquired more than 20 pieces of original art from artists of the Gateway Arts District to create The 3807 Collection, which is on permanent display throughout the building. The collection features works from 16 artists of a variety of mediums: Valerie Watson, Melissa Glasser, Allen Linder, Wayson Jones, Katie Dell Kaufman, Elisabeth Jacobsen, Laurie Breen, Jay Coleman, Tom Hill, Liza Linder, Jodi Ferrier, Krista Schlyer, Juliana Vallejo, Jaleel Davis, Alan Binstock and Valerie Theberge.
Landex created additional ways to promote and include local artists in its 147 residences community. Studio 3807 has designated properly lighted wall space for rotating artwork to promote local artists. The art is on display for two months and artist receives a small honorarium from Studio 3807. In addition, the property also holds a quarterly artist talk for the residents of the building and the broader community.
Landex's has gone beyond purchasing art to show its commitment to the Gateway Arts District community by creating affordable quality space for artists to work, collaborate and exhibit. Studio 3807 is home to Portico Studios and Gallery, over 3,000 square feet of artists' studios and gallery space managed by local artist John Paradiso. Portico is also home to five visual art studio spaces occupied by local artists. Portico Studios and Gallery holds art shows every 8 weeks that include both a local and visiting artists.
Opening this summer, Savor at Studio 3807 (Savor), an 8700 square foot culinary arts incubator and food hall. Savor will feature local artisanal food vendors, an indoor farmer's market and an area for live entertainment. Operated by April Richardson, owner of DC Sweet Potato, Savor will work to mentor and approach food start-up businesses. We invite you to take a personal tour of Studio 3807 and take a sneak peak of SAVOR during the May 11, 2019 Open Studio Tour. The Open Studio Tour will run from 11am to 5pm and there will be an After Party at Savor from 5 pm to 8pm.
For more information or to schedule a tour, please contact Lisa Seborowski at L38marketing@gmail.com or 410.279.1596.
About Studio 3807
Studio 3807 Developed by public private partnership that includes Landex Development and Prince George's County and designed by Grimm and Parker, Soltesz and RD Jones. Studio 3807 was built by Hamel Builders and is managed by Winn Residential. Located at 3807 Rhode Island Avenue in Brentwood, MD, the building is a mixed-use development including 147 apartments, 6,300 square feet of retail space and 3,000 square feet of artist studio space and it has been designed and constructed to meet the US Green Building Council's Leadership in Energy and Environmental Design (LEED) gold standard, one of the highest LEED standards available. Floor plan options include studio, one and two bedroom apartments and three bedroom townhomes.
About Landex Development
Landex Development is a family-owned real estate development company founded in 1983 and specializing in the formation of public/private partnerships for the acquisition, rehabilitation, and new construction of market rate, mixed-income, and affordable multi-family housing communities in urban settings, including in Maryland, Florida, Massachusetts, Pennsylvania, Missouri, North Carolina, New Jersey, Utah, Virginia, Washington, and the District of Columbia. The firm has developed and operated over 7,500 high-quality, well-constructed, and well managed multi-family housing apartments for lease.