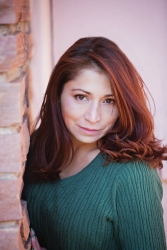 Fort Worth, TX, May 16, 2019 --(
PR.com
)-- Ms. Denver Colorado for Ms. Woman United States, Linda Casey, will be competing in the national level representing the state of Colorado, July 28 2019 - August 4, 2019 in Las Vegas, Nevada.
Linda Casey born in North Richland Hills, Texas and raised in Fort Worth moved to Denver in August 2018. She was selected May 5, 2019 to represent Colorado in the United States National pageant in the Ms. Woman division. Casey was selected to represent the Denver Metro area in April of 2019, and after meeting qualifications and an interview with the pageant director, she was chosen to move to the next level. The national pageant will be held at the South Pointe Hotel in Las Vegas, Nevada.
Casey holds a bachelor's degree from the University of North Texas and a master's in business administration. Casey moved to Colorado to serve as the Controller for a local real estate development company, headquartered in Denver. Casey also holds the title of Miss Cherry Creek 2019 for Miss Colorado for America. In the Miss Colorado for America pageant, held March 30, 2019, Casey won the Fabulous Faces award based on online votes from the public, in which 80% of the votes came from Texas supporters.
"I am so excited and honored to represent Colorado at the national competition. I hope to help Colorado shine with a bit of Texas charm, and make both states proud." -Linda Casey, Ms. Denver Colorado for Woman United States 2019
The United States National pageant is in their 33rd year, and is he largest pageant system for girls and women ages 8+ in all 50 states, the District of Columbia, and five U.S. territories. United States National Pageants give women the opportunity to promote a platform of community service. Featuring eight divisions – Little Miss, Pre-Teen, Junior Teen, Teen, Miss, Ms., Ms. Woman, and Mrs. United States. For more information on upcoming pageants, visit
www.mrsunitedstates.com/2019-national-pageant
Community organizations, businesses or private individuals that would like to assist Casey in representing Colorado in this year's national competition can do so by becoming an official sponsor. Sponsorship allows a contestant to receive all necessary training, provides financial assistance to offset the costs of entry fees, travel accommodations and other expenses associated with pageantry. Through sponsorship, Casey is training with renowned pageant coach, J.J. Smith of Houston, Texas, known as the "King of Queens" to prepare for the upcoming pageant.
For those interested in becoming a sponsor for Linda Casey, contact her pageant coordinator Maria Garcia at 720-446-9164. Follow Casey's progress on
https://www.facebook.com/linda.maria.9256028