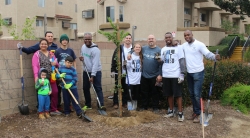 Ontario, CA, May 23, 2019 --(
PR.com
)-- Along with Lampkin Foundation volunteers, employees from Lowe's Home Improvement store #2270, members of the Inland Empire Job Corps, and Scouts from the local Girl Scouts of America chapter will be joining the tree planting effort. Ontario Department of Public Works employees will be on hand to conduct a tree planting demo, 9 a.m. at 1259 E D St., and to help community members plant trees.
"Activities such tree planting, continue to be a great way to bring local government, community groups, and residents together," says D'Andre Lampkin, Board Chair of the Lampkin Foundation. "Normally as part of our DNA Initiative season, we assist with the needs of the Ontario Community Farm. However, due to its popularity last year, we decided to host another tree planting and community beautification day in our city and endeavor to plant over 100 by the end of 2019."
This year's tree planting project is a part of the Foundation's DNA Initiative. The DNA (Developing Neighborhood Agriculture) Initiative's mission is to support community-based health programs for growing urban communities, bring awareness to fresh food resources, share lessons, and build solidarity through global partnerships.
"Tree planting is equally important to our initiative's goals. Adding more trees throughout our city reduces the heat island effect common in highly populated urban areas where housing developments outnumber opportunities for green spaces to flourish. Making improvements to our already existing green spaces by incorporating native plants will also create opportunities for carbon farming and carbon sequestration," added D'Andre Lampkin.
Last year, the Lampkin Foundation planted over 250 trees throughout the city of Ontario on streets which included Walnut Street, Riverside Drive, and Campus Avenue, among others.
"Ontario has seen a lot of construction and growth over the years, and I can't help but think about the trees that were removed in the process," says Kendle Markham, local realtor and Lampkin Foundation supporter. "For our community and environment, it's important to replenish what has been taken away. I'm thankful the D'Andre D. Lampkin Foundation, their community partners, and the city of Ontario are taking a proactive approach to replenishing trees in our community."
The tree planting and community beautification event is made possible by the Lampkin Foundation volunteers, its all-volunteer board, support from Lowe's Home Improvement Store #2270, and collaboration with the city of Ontario Department of Public Works. Thanks to the participation of residents, local business, public works employees, and partnerships with local non-profits, the Lampkin Foundation will plant approximately 100 trees throughout Ontario's Veteran's Memorial Park.
"As a newcomer and new homeowner in the beautiful city of Ontario, I was thrilled when I was asked by the Lampkin Foundation if I wanted to help with the beautification project. I love being able to help my community, and now new home city, in planting trees and teaching our younger generations how they can help our city and planet," said Livia Payne. Livia has asked her family to celebrate her birthday by joining her at the tree planting event.
Lampkin Foundation board members will be on hand to answer questions about their initiatives and current goals.
For information about the June 1 tree planting and community beautification event, visit:
http://www.lampkinfoundation.org/dna-initiative
.
To donate to the D'Andre D. Lampkin Foundation go to:
http://www.lampkinfoundation.org/donate
.