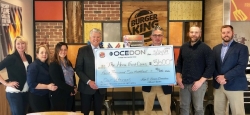 Denver, CO, May 29, 2019 --(
PR.com
)-- Local Burger King Franchisee, Ocedon, recently presented The Home Front Cares with a donation in the amount of $5,600.
The Home Front Cares is a Colorado-based organization that helps active duty, veterans, and their families overcome financial crisis and regain stability. The mission of The Home Front Cares is to have Colorado military members, veterans and their families achieve stability and hope for a successful future.
Ocedon selected The Home Front Cares after much consideration due to the organizations' strong reputation and passion for helping veterans throughout Colorado. Through Ocedon's restaurant round up program which began in March, Ocedon has raised more than $5,000 to date with the goal of raising $30,000 by year end to help even more veterans.
"We are passionate about helping our veterans, especially now to honor the meaning of Memorial Day, and are committed to supporting the Home Front Cares serve our military and veteran families. As a company, we have pledged to be involved in our community and are proud to honor our veterans and active military to give back to those who have given us so much," said Ken and Elena Donahue.
Photo Caption: Burger King® Ocedon Franchisee Donated $5,600 to the Home Front Cares to help Colorado's Military and Veteran families.
About Ocedon
Ocedon is a family-owned business run by dynamic duo Ken and Elena Donahue. Ocedon entered the Denver market in December 2002 and owns and operates 37 Burger King® restaurants located throughout Denver, Aurora, Colorado Springs, Pueblo, Canon City, Woodland Park, Greeley, Sterling, Longmont and Loveland in Colorado.
The Home Front Cares originated in 2003 and provides an emergency financial bridge and responsive support to Colorado's military members, veterans and their families. The Home Front Cares also welcomes our military home with their "Welcome Home Heroes" program. The Home Front Cares and several volunteer groups meet every plane that arrives in Colorado Springs carrying soldiers returning from Iraq and Afghanistan, greets them and thanks them for their service! For more info about The Home Front Cares go to www.thehomefrontcares.org
Visit any of Ocedon's Burger King locations to donate to The Home Front Cares which include:
Denver Metro and Surrounding
7650 W Quincy Ave., Denver, · 302 S Sheridan Blvd, Denver, · 7317 E Colfax Ave, Denver · 7150 Leetsdale Dr., Denver · 520 E. 58th Ave, Denver · 1010 W Colfax Ave., Denver · 4901 S Broadway, Englewood · 6712 South Potomac St., Englewood · 15340 East Hampden Avenue, Aurora · 2560 S Havana St. · Aurora, 15290 East Colfax, Aurora · 12119 E Mississippi Ave, Aurora · 3800 Chambers Road, Aurora · 1998 South Kipling Pkwy, Lakewood · 5061 South Jellison Way, Littleton ·2397 West Belleview Ave., Littleton · 6801 West 120th , Broomfield · 4945 Kipling St., Wheatridge · 2601 Sheridan Blvd., Edgewater · 5255 West 80th Ave., Arvada · 301 West 84th Ave., Thornton.
North
1602 West Main St., Sterling · 4485 City Centre Rd, Firestone · 2708 11th Ave, Greeley · 920 47th Ave, Greeley · 2020 Ken Pratt Blvd, Longmont · 2000 N Main St. Longmont · 2393 W Eisenhower, Loveland · 250 W 65th St., Loveland · 1325 Denver Ave, Loveland.
South
3520 Town Center Dr., Highlands Ranch · 6675 Business Center Dr., Highlands Ranch · 3705 E Woodman Rd., Colorado Springs · 1860 Vinewood Ln, Pueblo · 2795 Fremont Dr., Canon City.