Roldan Companies Inc. Announces New Documentary Film CYBER CRIME, Exploring the Impact of Digital Corruption
"CYBER CRIME is a documentary that needs to be seen by all considering the state of cyber security in our world today. It is in an ever evolving state, and people need to be aware of the dangers that come along with it," says Charles Henson, Managing Partner at Nashville Computer Inc.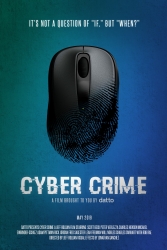 Brentwood, TN, May 30, 2019 --(
PR.com
)-- Launches in Select Theaters May 2019
Roldan Companies Inc., known for documentaries I-ology and Words of Art, will premiere an original documentary film CYBER CRIME at select movie theaters nationwide this May. Directed by award-winning documentary filmmaker Jeff Roldan (Words of Art, Miracles in Action), CYBER CRIME explores the world of cyber crime and its impact on businesses and individuals.
Featuring commentary from ten leading experts in the cyber security field, CYBER CRIME takes a deep dive into the world of identity theft and web crime. These experts share stories, experiences and secrets to staying and playing safe both online and in the real world.
"Join us on a journey, visiting with 10 leading experts in Cyber Security as they explore the world of Cyber Crime, its impact on our society and, most important of all, how you can avoid becoming a victim," says Jeff Roldan, Director and co-producer.
"Privacy is dead and this movie will explain just how true that is. With the state of cyber-crime in our world today, people are becoming the new commodity and our personal information is for sale now more than ever. You will begin to understand what the Dark Web is, what can be bought & sold there, and why you should care. It seems everyone is turning a blind eye to cyber-security, and the impact on both our personal lives and businesses is extreme. You will also be exposed to the shocking truth about computer security that catches most people and businesses off guard," says Charles Henson, Cyber Security Expert.
CYBER CRIME will have its west coast premiere on Wednesday May 15th, 2019 at the Pacific Theaters at The Grove in Los Angeles and will roll out to select theaters across the country. The Nashville, TN premiere is scheduled for June 26th, 2019 at the Franklin Theater. The film will also be available online for Amazon Prime subscribers.
About CYBER CRIME
CYBER CRIME is directed by Jeff Roldan, co-produced by Peter Verlezza and Jeff Roldan, and features leading cyber security experts; Peter Verlezza, Michael Einbinder Schatz, Adam Pittman, Rick Jordan, Will Nobles, Leah Freiman, Fred Sagester, Charles Swihart, Scott Beck, and Charles Henson.
Contact
Nashville Computer Inc.
Charles Henson
(615) 377-0054
www.NashvilleComputer.com

Contact