Frontdesk Announces Guest Screening Partnership with TransUnion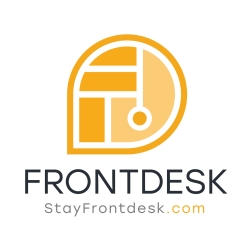 Milwaukee, WI, June 04, 2019 --(
PR.com
)-- Frontdesk, LLC (Frontdesk), a Milwaukee-based company, today announced a partnership with TransUnion Rental Screening Solutions, Inc., a subsidiary of TransUnion (NYSE: TRU) to help perform FCRA-compliant background screenings for each stay, regardless of length.
"We're extremely proud of this partnership, as it propels Frontdesk even further ahead as we bridge the gap between short-term and long-term stays," said Frontdesk's Chief Executive Officer Kyle Weatherly. "TransUnion's powerful platform often provides resident screening services to the long-term residents in the apartment communities in which we operate. We're thrilled to be using the same data source for our guests with stays that are much shorter-term in nature. Everyone involved, from our guests to our property manager partners, and even our resident neighbors, benefit from this partnership."
Frontdesk's promise is to prioritize a secure and seamless experience for all: secure stays for guests and secure policies for apartment communities. The partnership with TransUnion provides Frontdesk with extensive screening capabilities so they may make clear screening decisions with complete confidence. Key features such as comprehensive background checks and cutting-edge identity verifications offer a more complete picture of Frontdesk stays. As a result, the seamless technology allows Frontdesk to conduct proper vetting and facilitate short-term rentals while providing guests a frictionless customer experience.
"Our partnership with Frontdesk provides property managers and residents alike with a win-win solution. They are able to ensure the right checks and balances are in place while benefiting from having screened guests call their communities home, if only for a short stay," said Maitri Johnson, vice president of TransUnion's rental screening business. "Our industry-leading criminal background search service will help ensure guests are appropriately screened before getting keys to a short-term rental at an apartment community."
To learn more about TransUnion's multi-family applicant credit, criminal and eviction screening for property managers, please visit TransUnion's ResidentScreening suite of solutions.
About Frontdesk, LLC
Founded in 2017, Frontdesk, LLC (Frontdesk), develops and manages short-term rental suites for both business and leisure guests who are looking for a hotel alternative that feels more like home. With 200 suites around the country, over 16,000 guest stays to date, and an average satisfaction rating of 4.86 out of 5.0, Frontdesk is poised for growth.
https://www.stayfrontdesk.com
About TransUnion (NYSE: TRU)
Information is a powerful thing. At TransUnion, we realize that. We are dedicated to finding innovative ways information can be used to help individuals make better and smarter decisions. We help uncover unique stories, trends and insights behind each data point, using historical information as well as alternative data sources. This allows a variety of markets and businesses to better manage risk and consumers to better manage their credit, personal information and identity. Today, TransUnion has a global presence in more than 30 countries and a leading presence in several international markets across North America, Africa, Europe, Latin America and Asia. Through the power of information, TransUnion is working to build stronger economies and families and safer communities worldwide.
We call this Information for Good(SM).
http://www.transunion.com/business
Contact
Frontdesk
Alicia Haugen
414-412-3377
stayfrontdesk.com

Contact