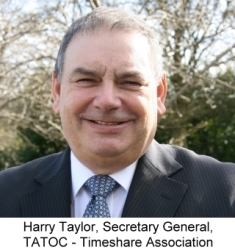 London, United Kingdom, March 31, 2008 --(
PR.com
)-- The Timeshare Association - Timeshare Owners Committees (TATOC) which is an association for members of timeshare owners committees, associations and other similar owner representative organisations from resorts around the UK and across Europe is the first to publicly show their support of the new consumer publication (
http://www.ownersperspective.com
) announced just a few days ago.
Harry Taylor, Secretary General of TATOC gave the following statement:
"Every industry needs an impartial and independent conveyor of information and news to be truly successful.
In my opinion, up until a few years ago, the timeshare industry in Europe didn't have that independent media player.
In Perspective Magazine I believe our industry has found its essential answer. Most timeshare industry publications are tied to major companies and their editorial has often been more about self promotion than sharing essential news and giving every company and initiative a reasonable chance for exposure. I cannot ever see Perspective Magazine ignoring a newsworthy story.
In Perspective Magazine I see a young and ambitious company who are determined to retain their independence, a company who will not be tied to any major player more than another. I commend them on the diversity of their publication and in becoming the biggest of their kind in the world. I shall enjoy watching them progress as they add their new consumer focused publication to their portfolio.
For the right reasons, which are the prosperity of our industry, TATOC will support Paul and Sharon Mattimoe in their new mission… as they have supported us."
TATOC as part of their support for the new magazine will be recommending to the members of their association that they have their timeshare owners subscribe to this free and independent publication.
A number of other companies have also expressed support and further official press releases will follow over the coming weeks in the lead up to the first edition.
The new publication, nicknamed "Owners Perspective" is scheduled for launch online in July 2008 with a print version to follow by the end of the year. Subscriptions to the online version of the magazine are already underway in advance at http://www.ownersperspective.com confirming the excitement of timeshare owners about the new source of information soon to be coming their way.
For those not familiar with the original business to business Perspective Magazine visit http://www.theperspectivemagazine.com
About The Timeshare Association - Timeshare Owners Committees (TATOC)
The Timeshare Association is a non-profit limited company formed in 1989 providing a networking group for members of timeshare owners committees and actively promotes the positive image of timeshare through all communications channels.
For more information visit http://www.tatoc.co.uk
About Perspective International Ltd
A specialised PR & Media company for the timeshare and shared ownership industry, Perspective International produces a number of publications both in print and online as well as a collection of industry resources than span a wide and diverse network across the globe.
For more information visit http://www.perspectiveinternational.com
###