Cyber Security Mogul & Entrepreneur Seeks Thunder Bay Riding's Liberal Party Nomination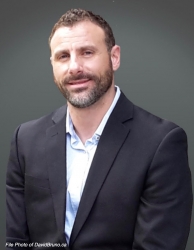 Thunder Bay, Canada, June 13, 2019 --(
PR.com
)-- In today's digital world so often fraught with threats to our identity, security and bottom line, there couldn't be a more urgent time to prioritize cyber security in our public policy. Thunder Bay native, David Bruno, knows this better than anyone. Bruno has officially announced his candidacy for the Liberal Party's nomination for the Thunder Bay-Rainy River Federal riding.
The CEO of a global cyber security firm, he specializes in anti-fraud and anti-corporate espionage systems, offering consultations to financial institutions and banks worldwide. Deeply concerned about destructive bots and scandals surrounding Facebook and political platforms in general, he intends to harness his technological expertise as an MP to help combat online abuse, working toward better protections for families.
Twenty Years of Experience Providing Online Security for Free
As politics and online fraud become more entwined than ever, David's interests have now dovetailed. Through his company, he has made it his mission to educate the public on both. For 20 years he has provided security to the masses for free while investing his own money in an encrypted email server for the public. An astute observer, he can cut through partisan views into the heart of the matter and possesses a solid understanding of the Canadian political system.
Fighting For Greater Funding Across the Northwest
Northwestern Ontario has long suffered from under-representation, and any resident will tell you there is a serious funding disparity between the north and the south. Bruno wants to change that, and bring much-needed attention and resources for a region that is too often "out of sight – out of mind" especially when referring to budget and budget cuts coming from Queens Park.
Climate Change Issue Close to His Heart (Elimination of Single Use Plastics)
Another issue close to his heart is climate change. David believes that Canada has a unique opportunity to be at the forefront of this battle and hopes to help spearhead the effort. It is his vision to see single-use plastics replaced with biodegradable wood-based products through our local renewable forestry industry.
Meet The Candidate – Saturday 15th June
Come out and meet David in person and bring your local concerns. He will be at the West Thunder Community Centre, 915 South Edward Street, this Saturday 15th between 4pm & 8pm. Free refreshments provided for all.
David Bruno grew up in Thunder Bay and attended Lakehead University, obtaining an HBA in Political Science with Honours. During this period, he also served in the Canadian military as a young Second Lieutenant. When he pursued a Masters Degree in International Relations and Communications in Madrid, Spain, he gained valuable experience and insight into how different governments function and communicate on a diplomatic level. He, through his family-owned bakery, Donato's Bakery, has served the residents of Thunder Bay for over 25 years. He also advocates for the LGBTQ community, and is fluent in English, French, Spanish and Italian.
Contact
Marc Brailov Global Public Relations
Marc Brailov
630-390-4198
www.publicrelationservices.net/

Contact