Flexco Introduces Revolutionary Reformulation for TUFLEX® Sports Flooring
The Industry's Only "Red List Free," 100% Recyclable Sports Flooring Product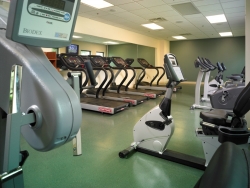 Tuscumbia, AL, June 14, 2019 --(
PR.com
)-- The TUFLEX® brand of sports flooring represents the only sports flooring product on the market free of harmful "Red List" chemicals. Working toward a higher standard in sustainability, the TUFLEX manufacturing team adheres to careful raw material sourcing in order to eradicate the environmental health risks associated with hazardous chemicals from a long list, including formaldehyde, lead, cadmium, mercury, halogens, asbestos, and aromatic oils – commonly found in the recycled tire crumb used to manufacture competitive sports flooring. With its recent reformulation, using only "Red List Free" chemicals, TUFLEX now provides a healthier environment for therapy rooms in healthcare facilities, veterinary offices, workout areas and locker rooms at institutional and recreational fitness centers.
"In today's marketplace, sustainability issues are a key consideration in specifying the products used in commercial construction," said Ann Dougherty, General Manager of Sustainability, Roppe Holding Company. "Creating Tuflex flooring Red List Free means the floor covering is free of all red list ingredients that can have an impact on the health and well-being of people who live and work in buildings."
In addition to the change in raw material composition, engineers at TUFLEX use a vulcanization system that is setting a new industry standard – not only in terms of sustainability but also construction. The smooth, non-porous surface is highly durable and low maintenance, yet it is engineered to deliver excellent slip resistance. "The unique construction of TUFLEX means we don't have to worry about going back to a job because the face coat and base layer have separated," Noted Brent Fike, General Manager of Technical Services, Roppe Holding Company, "And Tuflex installs like standard rubber tile, without any sort of weighting system like other sports flooring."
TUFLEX rubber sports flooring is neither designed with heterogeneous vinyl nor plastic foam underlayment; it's also 100% recyclable. "What happens to sports flooring at the end of its life?" Rahul Dhavalikar, Chief Polymer Chemist responsible for all RHC brands, said in a statement. "You throw it away – but it never really goes away. It's shipped off to landfills and incinerators. Ultimately, we're left with an atmosphere choked with excess carbon, or oceans filled with waste. What we've created is a closed-loop flooring system where our customers now have the choice to select a high-performance rubber flooring product that is made and upcycled in America."
The new TUFLEX formulation will continue to meet the proven third-party lab verified sustainability standards that are familiar to its users such as FloorScore® and CHPS certifications for indoor air quality and low VOC emissions. The manufacturing facility located in Tuscumbia, AL is ISO 14001certified. Tuflex also meets the criteria for NSF/ANSI 332 Platinum which evaluates and certifies the sustainability of resilient flooring products across their entire product life cycle beginning with raw materials to end of life.
Contact
Flexco Floors
Haley Plank
800-862-7539 x 7238
flexcofloors.com
1401 E. 6th Street
Tuscumbia, AL 35674

Contact