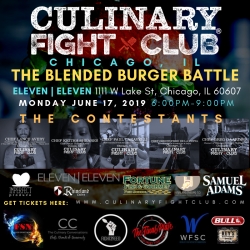 Chicago, IL, June 15, 2019 --(
PR.com
)-- The national food sport series, Culinary Fight Club (CFC), (http://culinaryfightclub.com/) makes its sixth stop in Chicago for their 2019 Blended Battle tour at host venue Eleven Eleven Chicago (https://elevenelevenchicago.com/) on Monday June 17. This year, chefs will battle across an expanded list of 14 cities including Brooklyn, NY, Omaha, NE, Indianapolis, IN, Nashville, TN, Atlanta, GA, Charlotte, NC, Portland, OR, Phoenix, AZ, Philadelphia, Pam Chicago, IL, Milwaukee, WI, San Diego, CA, Cincinnati, OH and Frisco, TX. Each Culinary Fight Club event benefits Fight2Feed, (http://www.fight2feed.org/) a non-profit that started in Chicago aiming to feed the hungry and reduce food waste. Competing in the Chicago Blended Burger Battle will be Paul Caravelli, Executive Chef of Eleven Eleven, Gregg Gaardbo, Owner of Chicago Culinary Kitchen, Lance Avery, Owner of Big Fork Brands and Avery Innovations, Christopher De La Cueva, Executive Chef of Ironside Bar & Galley and Keitha Sheares, Chef/Owner of Hotbox Bistro. Judges, Jesse Ramen Valenciana, Founder at ManBQue.com, Corey Rice, MasterChef Season 7 Contestant and Chef/Owner Chef Corey Rice's Kitchen and Michael Fiddler, Brand Strategy & Development | Culinary R&D + Innovation | Culinary Management & Leadership Consultant, will select the Chicago 2019 Blended Burger Champion. Sam Adams and Twisted Tea will be the exclusive beer and flavored malt beverage sponsor for 2019 Culinary Fight Club competitions across all markets. In addition, Fortune Fish & Gourmet (https://www.fortunefishco.net/) will provide the must use Black Angus Ground Beef and Highland Baking Company (http://www.highlandbaking.com/) will be providing the must use Baked Goods for the competition. Doors open at 6pm and tickets are limited. For more information on the full schedule of competitions, to purchase tickets or to sign up to compete, visit culinaryfightclub.com.
"Food sports is one of the fastest growing culinary events in the nation," says Culinary Fight Club founder and CEO, Jiwon McCartney. "We are thrilled to bring our events to even more cities and work with amazing local chefs who can battle it out and create delicious dishes in a competitive environment."
Culinary Fight Club events are thrilling live cooking competitions where some of the best local chefs battle to create the most gourmet plate up with limited time, ingredients and resources, while attendees watch, vote – and get to taste the food. This year's competition themes include Savory Chocolate, Tailgate Throwdown, Seafood Showdown, Blended Burger Battle, Black Box Challenge, Street Food Showdown, Sip + Bite, and new this year, the Twisted Sisters Showdown, an all-female chef competition.
About Culinary Fight Club
Culinary Fight Club is a food sport agency that produces live cooking competitions in 28 cities across the United States: Pensacola, FL; Chicago, IL; Omaha, NE; New Orleans, Los Angeles, San Diego and Sacramento, CA; Columbus and Cincinnati, OH; Boston, MA; Brooklyn and New York, NY; Nashville, TN; Birmingham, AL; Philadelphia, PA; Richmond, VA; Twin Cities, MN; Kansas City and St. Louis, MO; Green Bay, Madison and Milwaukee, WI; Charlotte, NC; Indianapolis, IN; Atlanta, GA; Portland, OR; Phoenix, AZ; and Dallas, TX. Culinary Fight Club partners with notable brands including Samuel Adams, Bulleit, Bull Outdoor Grills, the Mushroom Council, Big Fork Brands, The Beef Council, Consumers Meat, Pork.org and L&C Meats to host events at top venues. Culinary Fight Club's events are sanctioned by the World Food Sport Commission and CFC is an exclusive qualifier for Culinary Fight Fest and The Final Plate. Each event gives 20% of its profit to support Fight2Feed in their local communities. For more information on upcoming events, visit CulinaryFightClub.com, like the brand on Facebook or follow us on Instagram or Twitter.
About Fight2Feed
A 501(C)(3) organization, Fight2Feed brings food to people who need it, fighting hunger and food waste in its communities. The organization has fed over 90,000 people since its launch in 2014, serving hungry people at soup kitchens and bringing food to them right on the streets, and has over 250 volunteers in Chicago, Atlanta and Kansas City. Fight2Feed seeks to grow more chapter in 2019. For more information or to donate or volunteer, visit fight2feed.org, like the organization on Facebook or follow it on Twitter.