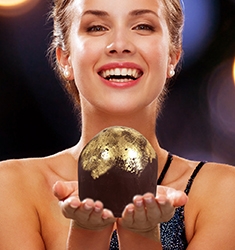 Charleston, SC, June 24, 2019 --(
PR.com
)-- Finally it is easy to say thank you. John F. Kennedy said, "We must find time to stop and thank the people who make a difference in our lives."
Two "retired" business people in Charleston SC, Hank Greer and Peter Waters, were sitting talking one day about how the art of saying "thank you" was beginning to disappear from our society. They decided to do something about it and came up with a company called Showing Appreciation. It has two dozen ways to say "Great Job" Thank you for making a difference by going above and beyond what is expected.
These unique gifts range from the worlds largest chocolate truffle weighing one pound, to life size million dollar bill chocolates with an edible image, to silver dollar size heavy metal coins that say "You Made a Difference." Many other items include gold bullion bars, chocolate pens and flowers, to chocolates that have your custom edible image in food color on them. Each unique product can be drop shipped with a card with a special message thanking the recipient. There is also a 1 gallon jar that has a bear in it with candy that says your message: "Bearly can wait to thank you" which ships in the plastic one gallon jar without a box to be delivered by USPS and handed to the receiver. Services are available with one unit per customer or for hundreds as a way for corporations to say thank you to employees and customers.
It is easy to tip a taxi driver or waiter but one can't give a tip to a lawyer, doctor, friend, or someone that has done something special that deserves recognition. A verbal thank you is a start but when you go out of your way to thank someone it makes their day.
What is amazing is that Forbes and Harvard have both written studies showing positive psychology research gratitude is strongly and consistently associated with greater happiness for the giver eliciting more positive emotions, improvement in health and better deal with adversity.
The bottom line is everyone feels better when great work is acknowledged. If you like seeing smiles - acknowledge it when someone goes above and beyond what is expected.
showingappreciation.com