Ecuador Freedom Brings High Performance Australian Motorcycle Tires to the Middle of the World
MotoZ Names Ecuador Freedom as Exclusive Ecuador Distributor.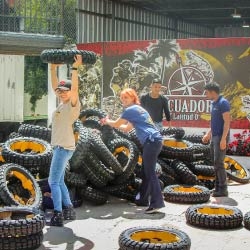 Quito, Ecuador, June 28, 2019 --(
PR.com
)-- Ecuador Freedom Bike Rental, the premier Ecuadorian motorcycle rental and tour operator, has been named the exclusive Ecuadorian distributor for MotoZ, an Australian adventure, off-road and enduro tire manufacturer. Ecuador Freedom will install MotoZ tires on its motorcycle fleet and will distribute the tires to selected retailers in Ecuador.
In their near decade-long history,
Ecuador Freedom Bike Rental
has demonstrated an unwavering commitment to the satisfaction and safety of their guests. Equipping their fleet of motorcycles with the highest quality tires available on the market is yet another way they continue to set themselves apart as an award-winning motorcycle rental and tour operator.
MotoZ
tires are designed in Australia by people with passion for their product and are actual dirt biking and motorcycle adventurers themselves. Their specialty tires give excellent performance and long-wear mileage. Their popularity is fast growing among the adventure motorcycle and motocross communities around the world. The tires are produced using patented technologies and an ISO9001:2008 quality certification.
"We are always on the lookout for the latest products and after-market accessories that will enhance the riding experience for our customers," explained Court Rand, Owner and Lead Guide at the Quito-based motorcycle tour operator. "MotoZ make the toughest ADV tire out there. All our bikes are now being equipped with MotoZ because these things just don't wear out and have a great grip both on and off the road. Our customers will appreciate the improved performance and the additional tire options we can now offer them."
The famous Alaska – Ushuaia route is an adventure of a lifetime, but finding the right tires for your bike can be a little tricky in South America. High import taxes, low demand for adventure bikes – all of these factors explain why getting new tires can be a bit of a headache in countries like Ecuador, Peru, and Bolivia.
According to Rick Atkinson, founder of MotoZ, Ecuador has been on their radar for a while now. "We receive so many inquiries from riders passing through South America that want our tires but can't find them where they need them. Availability is always an issue, but working with Ecuador Freedom provides a solution and local knowledge for adventure riders."
MotoZ enduro, adventure, and dual-sport tires will be available at Ecuador Freedom Bike Rental in Quito starting June 26, 2019. If you know you'll be headed that way, you can pre-order your set, and your new tires will be waiting for you in Quito.
Paul Stewart aka
rtwPau
l, a US rider who has logged hundreds of thousands of miles on his multiple round-the-world trips by motorcycle, swears by MotoZ tires both on and off the road. After riding across the Americas and logging over 12,000 miles on the MotoZ tires, Paul has this to say: "They're the best tires I've ever used...Period!"
"We offer the tires to trans-continental travelers because we love helping fellow adventurers out. After all, that's how we started, too! If you're passing through Quito, make sure to visit us, have a chat and a coffee, and get your bike some new shoes. If you get MotoZ tires here, we'll provide free installation and as always, tips on the best routes in Ecuador," added Court Rand of Ecuador Freedom.
Ecuador Freedom Bike Rental will be offering all models of MotoZ adventure and off-road tires through carefully-selected Ecuador retailers and dealers. For more information, please contact Ecuador Freedom directly.
About Ecuador Freedom
Located in the historic capital city of Quito, Ecuador Freedom Bike Rental is the country's first motorcycle tour operator, founded in 2009. Working with local, professional guides they design and outfit tours for adventure enthusiasts who wish to explore Ecuador's hidden gems. They are proud to offer South America's largest selection of rental motorcycles, all available with a low-price guarantee. Their rapidly-growing fleet of 4x4 vehicles from VW, Jeep and Ford that are toughened with offroad suspensions, snorkels, lighting systems and other gear to make them ready for your next adventure anywhere in Ecuador. Ecuador Freedom Bike Rental has achieved the "Certificate of Excellence" from TripAdvisor for 6 years in a row and was named "Motorcycle Tour Operator of the Year" by Luxury Travel Guide in 2017 and the "Business Excellence Award - Guided Tour Operator of the Year – Ecuador" in 2018 by Corporate Insider Magazine.
For more information: FreedomBikeRental.com
Contact
Ecuador Freedom Bike Rental
Court Rand
1-603-617-2499
http://FreedomBikeRental.com
In Ecuador +593 (02) 600-4459

Contact