Social Entrepreneur Haley Findlay Announces Partnership with Hospitality Brand Mantis Collection
Social Impact Tourism Will be Highlighted in a New Digital Series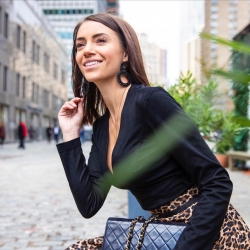 New York, NY, July 04, 2019 --(
PR.com
)-- Travel blogging will be elevated to new heights thanks to the new partnership between South African hospitality brand,
Mantis Collection
, and international social media entrepreneur, Haley Findlay.
Haley Findlay and The Mantis Collection will begin their collaboration in South Africa. This will result in the premier of Findlay's new digital series, 100 Ways to Connect the World. Her goal is to educate, inspire, and connect travelers with socially conscious organizations around the world by sharing her experiences through videos, interviews, and multimedia platforms.
In addition to highlighting the unique hospitality experiences created by The Mantis Collection, Haley Findlay will showcase their philanthropic achievements in supporting conservation and the preservation of the world's ecosystem.
The Mantis Collection together with Accor is proud to have founded the Community Conservation Fund Africa (CCFA). The CCFA aims to amplify commitment towards uplifting and empowering local communities which in turn will help to prevent the accelerating decline of Africa's wildlife.
World Wide Experience, another Mantis Collection organization, was created to expand their conservation and educational reach by providing gap year placements and recruiting volunteers from around the world to work on diverse projects in various countries across the globe.
The very popular Big Seven experience in the Eastern Cape is primed to be a major part of the partnership between The Mantis Collection and Haley Findlay.
"Traveling has always been a big part of my life. Partnering with The Mantis Collection allows me to combine my passion for travel with my mission to provide awareness on important matters worldwide. It's an exciting opportunity!" said Haley Findlay.
South African Airways is also on board with the goals of The Mantis Collectionand provided transportation for Haley Findlay from New York to South Africa.
About Mantis
Mantis is a diverse collection of extraordinary destinations spanning every continent on Earth. Rooted in conservation, Mantis pursues sustainable business practices and develops tourism products that are respectful of the environment and communities in which they operate.
Whether small and intimate or vast and complex, on a sweeping African plain, bustling city, private tropical island or frozen snowscape, each is an exceptional place for guests to find themselves. While uniquely different in the experiences they offer, all are linked through a collective obsession to be extraordinary and rare in a world that produces sameness in mass.
Mantis constantly curates, collects and discovers destinations and experiences that stir the soul, defy expectation and live in the heart forever. They will do anything in our power to advance the cause of sustainability and to promote further appreciation of the land, its creatures and communities within. They believe that the truly rare and unique experiences need to be looked after and protected for future generations. It is safe to say they are wholly committed to Legacy Creation.
Mantis hotels procure bathroom amenities, wines, coffee, and other amenities from suppliers that practice the utmost care for the environment and do not use animals to test their products. Mantis has partnered with Eco-planet Bamboo and is determined to replace all unsustainable packaging, and paper products in their hotels with bamboo alternatives.
In April 2018, Mantis joined the Accor Group, a strategic partnership which reinforced the Group as a leader in curated one-of-a-kind experiences and resonated with the Accor's conservation platform; Planet21. Together, Mantis and AccorHotels created the Community Conservation Fund Africa (CCFA) in response to the urgent need for the tourism industry to play a greater role in conservation and community upliftment. CCFA is a registered NPO which funds community upliftment programmes and conservation operations in Africa.
Mantis Central Reservations: +27 (0)41 4049300
Twitter/ Facebook/ IG: @MantisGroup
https://www.mantiscollection.com/
About CCFA
Community Conservation Fund Africa (CCFA) is a registered NPC founded in 2018. It was reportedly borne out of the merger between Mantis and Accor Hotels. These two global hospitality groups recognise the urgent need for community upliftment which will benefit Africa's wild animals and wildernesses at a time when both are under threat.
CCFA is both a fund-raising & a grant-giving organisation that is active in educating and empowering local communities to implement sustainable wildlife management systems on the ground. These solutions are funded by CCFA and its commercial partners. Community Conservation Fund Africa (CCFA) was set up to help put the spotlight on rural African communities that live among the wild animals but by large have received few benefits from this often-difficult privilege.
CCFA's mission is to address these inequalities and investigate ways of giving rural African communities a greater role in wildlife ownership and management. They envision local African communities who are educated and empowered and can manage wild animals and wilderness areas sustainably. They believe that this change will have a direct impact on the preservation of wild animals and wilderness areas.
Twitter/ IG: @CCFA_Africa
Facebook: https://web.facebook.com/ccfa.africa/
Website: http://www.ccfa.africa/
About Worldwide Experience
Worldwide Experience specializes in conservation and community projects, where volunteers and student groups from across the globe are invited to make a real difference. Their portfolio stretches out to South Africa, Namibia, Zimbabwe, Kenya, Sri Lanka, Croatia, Madagascar, Mozambique and soon Rwanda.
The organization's placements give students and volunteers the opportunity to work behind the scenes on game reserves, animal rehabilitation centres, community projects and ocean research programmes. They also offer veterinary students a wildlife veterinary experience with Dr. William Fowlds, a world renowned South African vet along with his team. Equestrian students can sample the wilderness mountains of Velebit, Croatia.
All projects are developed to address actual needs and requirements in their respective regions. Whether the volunteers and students are helping to dart a lion, track a cheetah, ID an elephant, bottle feed orphaned rhinos or present to a class of children, they are making a real difference.
Organized Eco School Challenges will present educational expeditions abroad for groups of young adventurers from colleges and schools. The trip abroad in regions of the developing world is intended to stretch comfort zones, teach life skills, and expand minds outside the classroom.
World Wide Experience is a fully bonded operator (IATA, ABTA and ATOL) which gives interested parties financial and legal security when securing reservations with the brand.
With conservation NGO's across the globe, teams work to make a real impact together.
Worldwide Experience placements are perfect for gap year, career break, or a vacation out of the ordinary. Anyone prepared to get involved, willing to get their hands dirty and help make a real impact is presumably welcome.
Facebook: @WorldwideExperience
Instagram: worldwide_experience
YouTube: WorldwideExperience1
Twitter: @WorldwideExp
Website link: http://www.worldwideexperience.com/
About Haley Findlay
Haley Findlay is a successful social entrepreneur who is revolutionizing the social media industry by leveraging her business savvy and fast-growing platforms to unify the world. Along with Haley's commitment to fostering the digital growth of socially conscious brands, she has now expanded her attention to uplifting charities and conservation efforts worldwide.
For more information reach out via the following media contact details.
Instagram: @Haley.Findlay
YouTube: https://www.youtube.com/channel/UCWkY2XGdYKiOJQWYd48uAqw
Contact: haley@findlayclientservices.com
Website link:
http://haleyfindlay.com/
Contact
Dale & Davis Public Relations
212-890-8901
DaleDavisPR.com

Contact