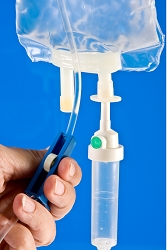 Beverly Hills, CA, July 06, 2019 --(
PR.com
)-- The article on vitamin infusion therapy addresses some sensitive issues with respect to medical spas offering this service. The new blog post can be found on Phlebotomy Career Training's website in the
News section
. Below is an excerpt of the article.
"It's finally here, the famous IV Vitamin Therapy Bars. This is the new trend for many health spas. IV drip therapy is a 20-35 minute process, where a person is given an IV infusion of vitamins. That's it! Afterwards they go back to their daily routine. It sounds as easy as stopping at your favorite coffee shop and walking out with your coffee.
"So why are these treatments so popular? Well for one reason, we all know that vitamins are good for us. Most everyone remembers being told to, 'take your vitamins' since childhood.
"As adults we are inundated with ads promoting supplements that will build muscles, increase stamina, grow hair, promote well being and strengthen bones to name just a few. Does it really come as a surprise that instead of just swallowing a handful of vitamins, one can go to a spa and get a vitamin infusion?"
The author helps the reader understand the purpose for IV vitamin therapy while looking simultaneously at the pros and cons associated with the treatment. While the author is not actually disparaging such services, they do make it abundantly clear that there a plethora of complications that are associated with such treatments, that if not addressed by medical professionals could go drastically wrong.
Therefore the author's main viewpoint, if any, is that the general public should be informed before they decide to have IV vitamin therapy infusion. Due to the fact that there is lot of press out there today with respect to the IV Bars, the author wants the public as well as medical health care professionals to be aware that the traditional guidelines of scope of practice apply to whomever is performing the infusion. For instance, the author states the following:
"When starting an IV, the first thing the medical professional must do is find a vein to use. The actual catheter that is inserted into the arm or hand is typically anywhere from a 21 gauge to a 23 gauge needle. The next thing that must be done is to prime the IV line. No one wants air in the tubing. The other factors that must be considered before infusing any sterile fluids into a vein is the patient's current medication regime, vital signs and allergies. It is obvious that beginning an IV drip of any kind requires requisite knowledge of medicine and patient care."
The author addresses the legal aspects of IV vitamin infusion and indicates a general concern for the welfare of the public. While they mention in the article that the IV Bars are "here to stay," they broach the topic of the bandwagon mentality of those who are not licensed medical professionals jumping onboard to make money.
From the standpoint of the article itself, there appears to be a need to address the topic of IV vitamin infusion as well as the possible legal and ethical concerns of those performing the service.