San Miguel de Allende Named Best City in Mexico for 4th Straight Year by Travel + Leisure Readers in 2019 World's Best Awards' Rankings
Mexican Colonial City also comes in at number 2 in Best Cities in the World with Three of its properties also ranking across various lists.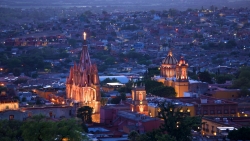 Manhattan, NY, July 13, 2019 --(
PR.com
)-- San Miguel de Allende has been named the Best City in Mexico for the fourth year running in Travel + Leisure magazine's 2019 World's Best Awards ranking. The annual awards honor the top travel destinations and companies around the globe, as rated by readers.
The Mexican colonial city also came in as the 2nd Best City in the World. In addition, Rosewood San Miguel de Allende, Belmond Casa de Sierra Nevada and Hotel Matilda were named top hotels in Mexico, with the last one also ranking in the top hotels in the world list.
"I applaud the recognition that the readers of Travel & Leisure have bestowed on the city of San Miguel de Allende. This is an award well deserved by our travel industry and all the 'sanmiguelenses' who work every day to make our amazing town is a unique travel destination and a great place to live," said Luis Alberto Villarreal, Mayor of San Miguel de Allende. "I am very proud to take part in this celebration and the recognition of everyone who works on a daily basis with the creativity and dedication that make San Miguel the heart of Mexico."
San Miguel de Allende is a colonial jewel, a UNESCO World Heritage city and one of a select few cities worldwide to be so honored for multiple years. "Its central location and rich history, as well as its culture, gastronomy, art and people, are a part of what contributes to its nickname as 'The Heart of Mexico,'" said Laura Torres, President of the San Miguel de Allende Tourism Board.
In addition to the city's art, culture, gastronomy, heritage and architecture, the fabric of San Miguel de Allende so colorful primarily thanks to its people, who give of themselves daily to preserve the city's unique culture. The recent "Faces of Our People" campaign was a tribute to the San Miguelenses who help shape what makes the city so unique. For example, Guadalupe Ramirez, also known as "Bola," has been a prime advocate and promoter of regional cuisine for decades. And then there's Humildad Galvan, who acts as guardian of the tradition of ceremonial tortillas of the Otomi communities of the Laja River Basin. Other examples include Hermes Arroyo, a creator of sacred art, and Francisco Mota Olmos, who has been dedicated to goldsmithing for years. Finally, there those not native to San Miguel de Allende but who have come to call it home, such as Stirling Dickinson and Leonard Brooks, who have dedicated their lives to promoting their adopted city. These are just a handful of the many people who have become pillars of the community. Each has helped mold San Miguel de Allende into a place worthy of staking a claim to the title of "Best City," not only in Mexico but in the world, as well.
Today, San Miguel de Allende is home to more than 80 hotels, including 30 boutique properties, two hotels approved by the Virtuoso network of travel advisors and two Design Hotels properties. The city also boasts 70 restaurants, three golf courses and dozens of spas and art galleries. San Miguel de Allende is truly a cultural city with something to offer for everything.
The best way to see San Miguel de Allende is to wander its streets and cobblestone alleys, where visitors will discover a storybook world of colorful homes and mansions, elegant balconies and historic doorways - and the beautiful people inhabiting them. Just outside the city, travelers can get in touch with nature by bathing in hot springs, strolling vineyards, riding in hot air balloons or getting the heart racing atop an ATV.
Press Contact: carlos@enroutecommunications.com
For more information, visit www.visitsanmiguel.travel
Contact
San Miguel de Allende
Carlos Lopez
917-438-7096
visitsanmiguel.travel

Contact