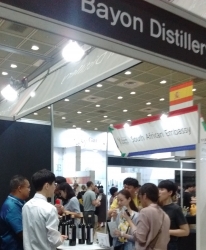 Portland, OR, July 11, 2019 --(
PR.com
)-- Bayon Distillery shows off their Tamarind Liqueur and Cascara Liqueur at the SIWS show, Seoul Korea, June 2019. Serving over 2200 tastings of Tamarind Liqueur and Cascara Liqueur to over 1200 participants. Bayon Distillery won a Bronze Medal for its Cascara Liqueur in 2018 at the American Distillery Institute (ADI) Craft Spirits Conference.
Seoul International Wine & Spirits Expo (SIWS) has been the only wine & spirits exhibition in Korea for the past 16 years, attracting more than 25,000 buyers and visitors annually.
As the only mainstream exhibition platform in Korean wine & spirits market, SIWS Expo provides opportunities to expand sales and direct promotion to actual consumers who purchase the products.
In addition to Tamarind Liqueur and Cascara Liqueur, Bayon Distillery also offers Mondulkiri Coffee Liqueur. Mondulkiri Coffee Liqueur is made from coffee beans from Mondulkiri Province in Cambodia; hand picked by Bayon Distillery employees, and processed at its facility in Sihanoukville Province, Cambodia.
Bayon Distillery won a Bronze Medal for its Mondulkiri Coffee Liqueur at the March 2019 American Distillery Institute (ADI) Craft Spirits Conference.
Ron Zemp and Jennifer Zemp invested in Bayon Distillery in early 2018. Jennifer Zemp says, "Matthew Green-Hite has a strong business mind and along with his passion for Bayon Distillery we just knew it was a smart business investment. We could not be happier investing in Matthew Green-Hite and Bayon Distillery."
"My favorite Liqueur and go to drink is Bayon Distilleries Cascara Liqueur," says Ron Zemp.
For more information about Bayon Distillery go to their website at
https://bayondistillery.com
About Bayon Distillery
Bayon Distillery Ltd. is a corporation founded in Cambodia. Operations are located in Sihanoukville Province; centrally located to fruit farmers, and near Cambodia's only deep water port. Bayon Distillery brings US craft distillery operations to Cambodia, combining them with the exotic local fruit and spices. We are helping preserve the palm sugar industry, and implementing new uses for local products such as mango and cashew, and providing skilled new jobs for Cambodian workers.
About the Founders of Bayon Distillery
Matthew Green-Hite
Matthew is a native Oregonian; the birthplace of craft distilling. He spent 2 years in the US Army with the 82nd Airborne, and then received his AA degree in Computer Science; his BA degree in Accounting; and his MBA in Finance. He is completing his MS in Taxation; specializing in international taxation, and has several international clients. Matthew is a CPA, and holds a Graduate Certificate in Taxation, in addition to coursework in wine making and commercial distilling.
RJ Em
RJ and his family fled the Khmer Rouge at the age of 9, and spent the next 2 years in a Thai refugee camp before relocating to the US. He received his BS in Engineering from the University of Rochester, New York. RJ relocated to Cambodia 2 years later, and was involved in several NGO's (non-profts). He then worked for Tiger Beer (Cambodia) as logistics/purchase manager, and was manager of Coca Cola sales (Cambodia).