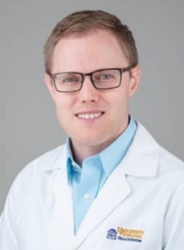 Lakewood, CO, July 14, 2019 --(
PR.com
)-- Rocky Mountain Gastroenterology would like to announce the addition of Michael McCabe, MD to their practice, and will begin seeing patients at their Lakewood clinic & Lakewood Endoscopy Center on July 15th, 2019.
Dr. McCabe has a particular interest in diagnosing, staging and endoscopic therapies for GI oncology patients and is passionate about treating pancreatobiliary disease as he specializes in ERCP, diagnostic/therapeutic EUS, cholangioscopy and endoscopic mucosal resection.
Dr. McCabe has a philosophy of individualized care and placing emphasis on the particular needs and concerns of his patients. He believes in strong patient/provider communication skills, as he wants his patients to fully understand their disease state and treatment recommendations.
Dr. McCabe graduated from the University of Virginia with distinction, double majoring in biology and economics, prior to obtaining his medical degree from Georgetown University He subsequently completed his residency and fellowship training at the University of Virginia. After fellowship, he joined the clinical faculty at the University of Virginia, while completing an additional Advanced Endoscopy Fellowship to learn the latest, state-of-the-art endoscopy techniques. He is actively dual board certified in both internal medicine and gastroenterology/hepatology.
Dr. McCabe's will be joining John Goff, MD; Rajesh Jain, MD; Andrew Korson, MD; Waymon Lattimore, MD; Scott Mackenzie, MD & Kathryn Wisser, DO at our Lakewood group. The RMG Lakewood clinic is located at 355 Union Blvd. Suite 200 in Lakewood, Colorado 80228. Ther Lakewood Endoscopy Center is located at 7000 West Colfax Avenue, Lakewood, Colorado 80214. Dr. McCabe will also have hospital privileges at St. Anthony's Central Hospital and Presbyterian St. Luke's Medical Center.
Dr. McCabe is RMG's 26th physician, which includes other locations throughout the Denver metro area including Littleton, Centennial, Denver, and Thornton.