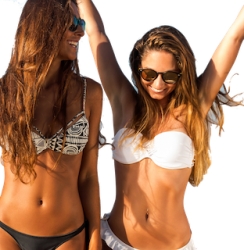 Las Vegas, NV, July 17, 2019 --(
PR.com
)-- Secret Youth LLC announces they will offer VelaShape at their Las Vegas Clinic. Secret Youth is a non surgical Laser Clinic in Las Vegas, Nevada.
There is a new contender in the fight against cellulite called Velashape and Secret Youth is now offering the non-surgical cellulite reduction treatment.
VelaShape uses vacuum technology to manipulate your skin while infrared light (IR) and bi-polar radio frequency (RF) energies will gently heat fat cells and the surrounding tissue. The infrared light and radiofrequency energies heat with precision dermal and hypodermal tissue in the treatment area. This boosts the metabolism of fat cells and reduces the number of fat cells thereby reducing cellulite.
VelaShape™ is an FDA-approved medical device that uses a combination of suction, massage, and infrared light to shape the body, and reduce cellulite and inches on areas like the thighs, abdomen, and buttocks in addition to radio frequency. *Results and patient experience may vary.
For more information about Secret Youth LLC's new treatment called VelaShape contact Secret Youth LLC at www.secretyouthllc.com.
About Secret Youth LLC
Secret Youth LLC is a friendly neighborhood Medical Spa located in the heart of Las Vegas. Secret Youth LLC offers a variety of services which includes laser hair removal, skin tone and texture improvement, skin contouring, treatment of pigmented lesions among other services that a modern Spa should provide to you.
The opportunities are endless when it comes to making you look more beautiful at Secret Youth LLC. You are our top priority and as such we have equipped our Spa with state of the art equipment with exceptional quality to deliver the best outcome. This service is rendered by experienced and certified professionals.