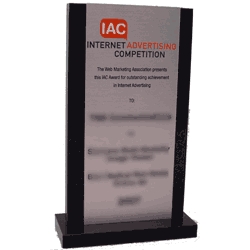 Colorado Springs, CO, April 02, 2008 --(
PR.com
)-- First Light Net
www.firstlightnet.com
, a provider of targeted internet advertising for the fishing, hunting, sports & outdoor industries, has been honored with two prestigious awards in the Web Marketing Association's 2008 Internet Advertising Competition (IAC). First Light Net won with two of its popular email campaigns based on quality of information and overall presentation. The IAC awards program recognizes excellence in online advertising. The winning entries can be viewed on the First Light Net website (http://www.firstlightnet.com/newsletter_archive).
"These award winning campaigns represent our significant connection to our targeted outdoor demographic and the businesses that seek that demographic," said Michael Hodgdon, CEO of First Light Net."Winning for business-to-consumer and business-to-business email campaigns demonstrates how First Light Net is uniquely positioned to serve the online outdoor community."
The IAC judges represented some of the top online advertising and creative agencies. Entries were scored on the basis of creativity, innovation, impact, design, copywriting, and use of the medium.
In the category of Best Online Community Online Newsletter Campaign, First Light Net won for its "Weekly Fishing Tackle and Outdoor Gear Giveaways" newsletter. This highly effective weekly newsletter campaign promotes outdoor retailers and websites by providing contest updates, articles, product reviews, news, advertising, and more to anglers and outdoors enthusiasts.
In the category of Best Advertising Email Message Campaign, First Light Net won for its "Free Pay Per Click Promotion on BigFishSearch.com" campaign. This campaign targeted businesses in the outdoors and fishing demographics, using a giveaway promotion to generate registrations, listings, and pay per click advertising on BigFishSearch.com. In addition to promoting the site, the email message provided detailed information about the tools and opportunities available on BigFishSearch.com, including traffic for listings and registrations.
"The Web Marketing Association is pleased to help set the standard for Internet excellence," said William Rice, president of the Web Marketing Association, Inc. "The IAC Awards highlight the best in this unique advertising medium by industry."
About First Light Net
First Light Net (FLN) is a trademark of Predatorial Advertising Associates L.L.C. It is a marketing and advertising company that specializes in serving the fishing, hunting, outdoor and sports industries' Internet needs. FLN maintains one of the largest self-owned online networks of outdoor related vertical niche websites, including the largest fishing network on the internet. They offer clients a wide range of services including banner advertising, featured "Retailer Showcase" ads, Pay Per Click advertising, textual ads, targeted opt in email marketing, and newsletter sponsorship. To learn more about First Light Net and the opportunities they offer, visit www.firstlightnet.com.
About Internet Advertising Competition (IAC)
The Web Marketing Association (WMA) was founded in Boston in 1997 to help set a high standard for Internet marketing and corporate web development on the World Wide Web. Staffed by volunteers, this organization is made up of Internet marketing, advertising, PR and design professionals who share an interest for improving the quality of advertising, marketing and promotion used to attract visitors to corporate Web sites.
###