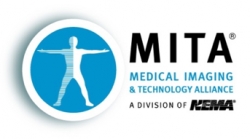 Washington, DC, July 17, 2019 --(
PR.com
)-- The Medical Imaging & Technology Alliance (MITA), along with the Council on Radionuclides and Radiopharmaceuticals, Inc. (CORAR) and the Society of Nuclear Medicine & Molecular Imaging (SNMMI), today applauded Representative Scott Peters (CA-52), George Holding (NC-2) and Bobby Rush (IL-1) for introducing bipartisan legislation that will ensure equitable payment for precision diagnostic radiopharmaceuticals while also preserving patient access to these crucial technologies.
The Medicare Diagnostic Radiopharmaceutical Payment Equity Act of 2019 (H.R. 3772) addresses structural issues in the packaging methodology used in the Medicare outpatient setting, giving patients greater access to a slew of much needed diagnostic radiopharmaceuticals.
"Under the current Medicare Hospital Outpatient Prospective Payment System (OPPS), cutting-edge, effective radiopharmaceutical drugs are inappropriately packaged, which limits patient access and discourages innovation," said Terri Wilson, Senior Director of Patient Access and Healthcare Policy at Blue Earth Diagnostics and current Chair of the MITA PET Group. "The Medicare Diagnostic Radiopharmaceutical Payment Equity Act of 2019 fixes this structural flaw, allowing patients much-needed access to diagnostic radiopharmaceuticals for life-threatening conditions."
Diagnostic radiopharmaceuticals are drugs and must be approved by the Food and Drug Administration (FDA). Although Medicare pays separately for diagnostic radiopharmaceuticals as drugs in the clinician office settings, in 2008, the Centers for Medicare and Medicaid Services (CMS) began treating diagnostic radiopharmaceuticals as supplies and bundling or "packaging" the drugs with the cost of the procedure in hospital outpatient settings.
Millions of Americans benefit from nuclear medicine procedures annually and more exciting new technologies are in development that could provide precision imaging for hard to diagnose diseases. These cutting-edge tools are already being used to diagnose diseases such as prostate cancer, Alzheimer's disease and Parkinson disease.
The Medical Imaging & Technology Alliance (MITA), a division of NEMA, is the collective voice of medical imaging equipment manufacturers, innovators, and product developers. It represents companies whose sales comprise more than 90 percent of the global market for advanced medical imaging technology. For more information, visit www.medicalimaging.org. Follow MITA on Twitter @MITAToday.­­­­­