Female Pineapple Grower Launches Global Fruit Brand with Ag Investment Multinational Farmfolio
Panamanian Pineapple farming Icon, Edna Vergara has teamed up with Agri-business investor and developer Farmfolio to launch a Dutch based promotion and fruit marketing firm under the name, La Dona Fruit Co, which will preserve the legacy of Edna's classic "La Dona" alter ego. The duo teamed up in 2018 to fund the expansion of the 117 hectare pineapple farm in Chorrera Panama.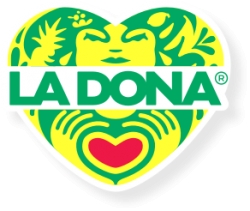 Amsterdam, Netherlands, August 26, 2019 --(
PR.com
)-- La Dona Fruit Co. launched its import and promotion desk in Rotterdam, Holland. Founded by Edna Vergara in 1977 and re-launched in 2018 with Farmfolio, La Dona Fruit Co. specializes in the Ultra-Premium Pineapple from Chorrera, Panama. In 1999, Edna Vergara lobbied the Panamanian government to allow her to experiment with the newly developed MD-2 pineapple seed developed by Del Monte. After several trials, Enda gained permission to begin commercial development in Chorrera. Fast forward to 2007, Edna organized and built the first internationally certified packing facility and was named the first female agriculture person of the year in Panama. Today, La Dona exports its golden pineapples to 10 countries with a focus on high color and high sugar content pineapple.
In partnership with Farmfolio, Edna and her son Paul Vergara successfully raised over 4 million USD to expand the farm, upgrade facilities, and establish direct import companies in Asia, Europe, and the United States. The newly opened Dutch promotion desk will service EU, Middle Eastern, and Russian markets.
Beginning in late July 2019, La Dona will offer its Ultra-Premium "Perfect Pineapple" shipped via air, High Color Super Sweet Pineapple and Sweet Pineapple shipped via container.
Farmfolio Founder and Director of International Marketing for La Dona Fruit Co., Jonathan Dax Cooke states: "Edna Vergara and the La Dona brand are symbols of hope for all small farmers with vision and perseverance. The love and passion that the Vergara family put into their work is why La Dona Pineapple is the very best in the world! Through our import/promotion desks, La Dona will change the game in terms of service for customers by offering 48-hour delivery from our Ridderkirk cold storage facilities."
Cooke will be heading the European launch of La Dona Fruit and plans to establish regional presence in Barcelona, Copenhagen, Istanbul, Madrid, Milan, Munich, and Paris. The company expects to ship 500,000+ cases of its premium fruit to EU markets annually.
Contact
La Dona Fruit Co.
Thomas Connell
+44-7776-480-697
ladonafruit.com

Contact