Rare Amelia Earhart Signed Photo for Sale by Circa Savannah, LLC
The letter from Jean Teal, Amelia Earhart personal assistant, on March 7, 1935, on Amelia Earhart personal letterhead, referencing the autographed photo of Amelia Earhart to a fan.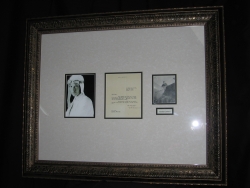 Savannah, GA, April 04, 2008 --(
PR.com
)-- Amelia Earhart was America's most famous female pilot. She wasn't afraid to break down barriers. In 1928, she was the first woman to fly as a passenger across the Atlantic Ocean. Then, in 1932, she became the first woman to pilot a plane across that ocean. Her actions inspired other women to follow their dreams. This was especially important because there were few career choices available to women at that time.
Amelia Earhart has inspired generations of women to do things that had never been done by women before. And now Circa Savannah is offering for purchase a special piece of inspirational history.
Circa Savannah provides a lifetime guarantee with every Certificate of Authenticity and will provide the new owner with all related provenance for this historic item.
Circa Savannah specializes in historic autographs; period antiques and eclectic memorabilia including a collection Confederate General Signatures and authentic items from such notables as Jefferson Davis, King Louis XVI, Harry Houdini, Andy Warhol and a variety of others.
Circa Savannah is the premier historic gallery in the Southeast and an outstanding leader in presenting historical documents and autographs as art. Circa Savannah offers its collection to the public Monday through Saturday from 10am and Sunday beginning at noon.
To learn more about Circa Savannah, visit the historic gallery online at www.circasavannah.com . To inquire about Amelia Earhart's signed photo or other items, you may call them directly at (912) 233-3667. The e-mail address is info@circasavannah.com
###
Contact
Circa Savannah, LLC
Paige Grodecki
912-233-3667
www.circasavannah.com

Contact