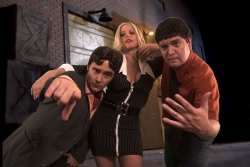 Los Angeles, CA, April 04, 2008 --(
PR.com
)-- From production company Pith-e Productions" the new program "Is It Safe? aka Safety First" an Internet comedy series using live actors in an all-green screen environment with miniatures. It is a "procedural" comedy in that it takes the popular new genre of procedural investigations as a peg on which to hang the Adult Swim like craziness of their world.
According Pith-e Productions principle producers Tom Konkle and David Beeler, the show plans to use miniatures to create 100 percent of its sets, much like last year's "300" did to fashion the Battle of Thermopylae only this time with frankly, much sillier wigs. A trailer for the first Monty Pythonesque Sin City can be seen at the show website http://www.daveandtom.com and many other sites like veoh.com, revver.com, youtube.com, etc...
The pilot presentation for a new internet comedy series penned and produced by Dave & Tom is available to watch online. Selected as a featured video on Veoh, the trailer received 25,000 views in it's first weekend online.
Is It Safe? starring Dave as Reginald Syngen-Smythe, Tom as Budwin Yaker and Brittney Powell as Dr. Randi Minky chronicles a CSI-like safety team which investigates Darwin Award accidents, leaving a swath of comedic chaos and destruction in their wake. The show is a live-action, innovative half-hour program that combines the familiar form and structure of investigative shows with the fresh anarchic free form of Adult Swim while drawing on the dryness of British humor, yet with a more "in your face" American feel and lots of good visual gags.
###