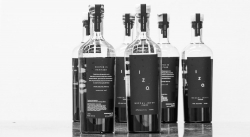 San Diego, CA, September 11, 2019 --(
PR.com
)-- San Diego based company, IZO, is ushering in the end of the summer season with the launch of its first of three Mezcals, IZO Joven. Whether it's a bold and vibrant base for cocktail or a slowly sipped shot at the end-of-the-day, IZO Mezcal is the perfect choice for any drinking occasion.
"With so many products on the market, we knew we had to come out with something unique and exciting," explained Torrey Belzberg, Co-Founder and Creative Director at IZO Mezcal. "An integral part of the IZO family, Jose de Jesus, is the mad scientist behind-the-scenes here at IZO. Jose, our 'Maestro Mezcalero' with a background in bio-chemistry, has meticulously created our mezcal with a very specific flavor profile: fruit forward with an incredibly clean, honey finish. That unique flavor can be attributed not only to our Mezcalero, but also the Cenizo Agave Varietal that we use. After countless test batches of their joven mezcal, IZO was perfected, and finally made its way to the United States this past January.
IZO Mezcal is trending to become one of the leading mezcals on the U.S. market; with its unique approach to the mezcal making process, from agave plant to final product, overlooking nothing.
Starting this month, IZO Mezcal will be available at these select Costco locations in Southern California and Arizona:
- Vista
- Temecula
- Chula Vista
- Tuscon
- Glendale
- Mesa
Cool down this summer with an "IZO Good," a wonderfully refreshing cocktail that balances the bold flavor of mezcal with the brightness of Passion fruit and Lemon:
1 1/2 oz. IZO Mezcal
1/2 oz. Passion fruit Purée
3/4 oz. Agave Syrup
1/2 oz. Lemon Juice
Shake ingredients with ice. Strain into an ice-filled glass; garnish.
Passion fruit Puree: Cut the fruit in half cross-wise and scoop out the seeds and pulp. Place the pulp in a blender, along with 1 teaspoon of water per fruit. Blend on high for two to three seconds. Pour the blended seeds into a fine, metal strainer placed over a mixing bowl. Use a wooden spoon to push as much of the pulp through the strainer, leaving the broken seed pieces behind. Shake and refrigerate for up to 1 week.
For more information on IZO Mezcal and cocktail recipes, visit IZOMezcal.com
To the media: For more information about IZO Mezcal, please contact Torrey Belzberg at: torrey@izomezcal.com or 619-777-3374