Philanthropist, Fashion Icon, Lily Lisa Attends Celebration of Olympian 1st Gentleman of China, Alex Hua, in Beijing
Fashion icon, producer Lily Lisa was honored to travel from Los Angeles to Beijing to join an intimate celebration introducing Alex Hua as "1st Gentleman of China" qualified for the second time at the 2020 Olympics in Japan.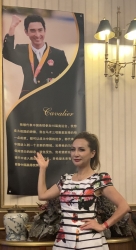 Hollywood, CA, September 24, 2019 --(
PR.com
)-- Lily Lisa supported Alex Hua as he was introduced by Hurun Report President, Sinclair Lu at Beijing's private Equuleus Club, hosted by the Hurun Report. A special Thank You was given to Lily Lisa for coming such a long distance to support Alex. She was also surprised when Alex presented her with a special gift by the unique, famous Chinese artist, Mr. Gao.
As Hurun Polo Cup Ambassador, "The Most Elegant Lady," for two years in a row, Lily Lisa became acquainted with Alex Hua and discovered they had many mutual friends.
At nearly thirty years old, Chinese riding phenomenon, Alex Hua has become "One in a Billion" as the face of Equestrian Sports in China; and as the only qualified eventer to attain a membership on the Chinese Olympic Team for the 2020 games in Japan.
Alex began horseback riding at four years of age and has ridden competitively since the age of 14 when Eventing became his passion. This zeal has led Alex to devote hours to perfecting his skills on horseback.
In 2008, Alex made the astonishing achievement, at the age of just 18 years old, of qualifying for the Olympics not only on host nation quota, but also on merit. He rose in the rankings to world number 21 in a period of only 4 months.
With horses at all levels of competition Alex regularly places in the top 10. These have included:
Silver Medal at the 2014 Asian Games
Ranked 5th in World in the FEI Olympic Horse-Rider Combination Rankings in August 2015
Winner of two Olympic qualifiers – including Dunakeszi CCI*** June 2015
Winner of Rockingham International, Express Eventing, Firle Place International and at Barroco D'Alva International, Hambledon International, Catton Park, Kelsall Hill, Stafford Horse Trials
Top Under-21 Rider at Blenheim International Horse Trials two years running
Top 3 placings at British Festival of Eventing, Hopetoun International, Rockingham Castle International, Chilham Castle, Kelsall Hill Horse Trials, Keysoe Horse Trials
Only Asian rider at the 2014 World Championships (World Equestrian Games)
Place 3rd at the British National Young Horse Championships (2014) and 8th at the World Young Horse Championships (2014)
From
http://www.alexhuatian.com/key-facts/
Poised, confident and well-spoken, Alex has established himself as an outstanding ambassador for China and his sport. This unique young man has an intriguing background. Half Chinese and half British, he identifies more with his Chinese half though he was raised in London, educated at Eton and speaks with a British accent.
The Chinese people have rediscovered horse riding as a sport after the 2008 Beijing Olympic Games, spurred on by the participation of the only Chinese rider Alex Hua. Of course it doesn't hurt the sport where the women are concerned; at 22, Alex was named one of the 10 most handsome equestrians on the planet.
Lily Lisa took time away from her hectic schedule in the U.S. because she wants to support this humble young man's passion. "I am so proud of Alex and I congratulate him in advance for the 2020 Olympics in Japan," says Lily Lisa.
Contact
TRC - The Right Connection
Norma Dalke
310-776-6368

Contact