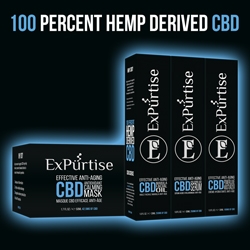 Mesa, AZ, October 01, 2019 --(
PR.com
)-- ExPürtise® is launching a new CBD skincare collection. CBD is short for cannabidiol which is a chemical compound extracted from the cannabis plant. Early research suggests CBD may help treat or prevent breakouts and deliver other unique therapeutic properties.
"We were the first skincare company to offer a complete CBD facial," said Justin Dotterweich, CEO of ExPürtise®. "This exciting ingredient has multiple benefits for skin and we're thrilled to share these beautifully packaged products with our spa partners."
ExPürtise® formulations incorporate the latest advancements in skincare and the new CBD collection includes eco certified organics and 100 percent hemp derived CBD. CBD that's hemp derived and under 0.3 percent THC is legal to be used in spa treatments and sold in retail settings in all 50 states of the United States.
ExPürtise® products are available in prestige spas worldwide as well as online at expurtise.com.
About ExPürtise®
The mission of ExPürtise® is to deliver the world's most results-focused products with the purest ingredients. ExPürtise® believes premium skincare shouldn't sacrifice purity to achieve results. That's why ExPürtise® products are free of irritants and harsh ingredients. Go Pure with ExPürtise® at expurtise.com.