State-of-the-Art Innovative Indoor Playground Opening in Sandy Springs on October 13
Ready, Set, Fun! brings together augmented reality experiences with innovative play spaces to spark creativity and imagination for children ages 1 to 12. This unique indoor playground includes augmented reality playrooms, children's yoga, kid's cooking classes and parent series offered for the ultimate holistic family experience.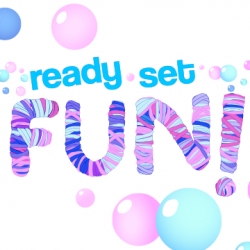 Atlanta, GA, October 09, 2019 --(
PR.com
)-- Ready, Set, Fun!, a new age interactive family entertainment center will open its doors to a new kind of fun for Atlanta area families by providing plenty of adventure-driven augmented reality (AR) spaces and classes to foster creativity and learning among children, while also giving parents a clean, contemporary space to learn, socialize, work and even relax.
"Our unique play spaces are not only fun, but also beneficial in developing hand-eye coordination and motor function," said Founder and Creative Director, Hedi Toub. Augmented Reality play spaces include:
Imagination Art
Watch children's masterpieces come alive in front of your eyes in animation form on the big screen.
Imagination Sandbox
Children won't believe their eyes when they uncover all sorts of creatures, and unchartered territories as they move their hands in the ultimate sandbox powered by super cool light technology.
Wall of Movement
Children will pop hot air balloons, make graffiti, and save the ocean with our magical Wall of Movement that utilizes light sensor technology.
What the Ground?
Look down to the ground for a can't believe your eyes type of adventure. Our cool light sensor technology is used to stimulate creativity and play among children 1 and older.
Just Dance
The perfect day club for your kids, outfitted with dance music, cool disco lights and all their friends.
In addition to unique play spaces, Ready, Set, Fun! offers children 6 months to 12 years of age a wide gamut of classes to further their development and interest in yoga, music and cooking, such as:
Mommy & Me Yoga Class
Moms can come find their center, relax and bond with their baby through postures and breathing techniques.
Little Yogis
Perfect for toddler "Little Yogi's" where they will experience animated poses, games, art, music, breathing exercises while barking in downward dog poses, hissing in cobra poses and roaring in lion poses.
Big Yogis
Older and bolder 5 to 10 year olds will improve strength, flexibility, and coordination. "Big Yogi's" will learn how to focus and center themselves with various breathing and visualization techniques.
Baby Music Class
Make some music and create harmony as mom/caregiver and baby enjoy play and music together with instruments, sounds and rhythms.
Music Class
Join your circle of friends and get ready/set to have a fun sing-along dance party as you create your own rhythm and sounds kids ages 18 months to 3 years of age.
Arts & Crafts Imaginers – Possibilities are endless with various offerings such as: Play Dough Friends, Modeling Clay Mosaics, Dr. Seuss Circles, Turtle Weaving, Scented Play Dough
Big and Little Chef Cooking Classes - Our executive chef will show little and big chefs the art of Pizza Making, Cupcake Decorating, Cookie Decorating and more, all catered to their abilities.
Ready, Set, Fun! also offers "Parent Series" classes featuring experts in the field to help parents navigate child learing to self-care to put a focus on sacred couple-time.
Baby Essentials 101: How to Navigate First Few Months of Parenthood
Speaker: Rachel Gordon MSN, RN, CPHON
Toddler Essentials 101: Behavioral Management, Potty Training and Excessive Crying
Speaker: Rachel Gordon MSN, RN, CPHON
Parents Night-In: Parental Health, Esthetics and Self Care after Child-birth and Beyond
Speaker: Jessica McCoun MD
According to a 21st century learning article, AR Technology in education increases student engagement, motivation and enables learners to use their imagination and encourage them to be curious.
"Ready, Set, Fun! was created to stimulate imagination and creativity within young developing minds in a clean and forward thinking, fun entertainment center for the entire family to enjoy today and for years to come," said founder Hedi Toub.
About Ready, Set, Fun!
Ready, Set, Fun! is a state-of-the-art indoor play space for children ages 1 to 12 that offers unique learning experiences that are designed to be interactive and innovative. Our mission is to bring convenience, luxury and creative imagination play to children and families. We offer classes, events and play that are designed to encourage a sensory adventure for children. Our coffee shop and café allow parents the luxury of enjoying their own time while their kids are having fun! The entire family experience is important to us.
Contact
Ready Set Fun
Hedi Abaei Toub
404-596-5566
https://readysetfun.com

Contact