Memphis Tours Offers Shopping Tips on Morocco Vacation Planning
Enjoy Morocco vacations by Memphis tours with your family which offer a wide range of great travel vacation packages.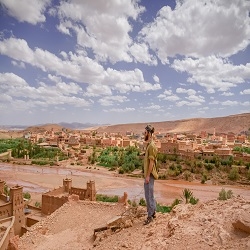 Giza Square, Cairo, Egypt, October 30, 2019 --(
PR.com
)-- When packing your bags at the end of a great vacation, you'll want to pack everything you have seen into your travel bags; while that is impossible, you can pack all of your
Morocco vacations
trip memories into your mind forever. However, sometimes memories are not sufficient to relive all those beautiful moments that you have spent in Morocco.
So, in this case, you can buy some selective souvenirs from that you won't find anywhere else in the world and always keep a part of Morocco with you all the time. Here, Memphis Tours has created a small list of beautiful items that you can purchase from Morocco and bring back home with you.
White and Blue Ceramics
When going to a local Moroccan market to buy souvenirs, you cannot leave that market without buying white and blue painted ceramics pieces. Pottery and painting are some of the important Moroccan cultural elements that will leave you mesmerized. Fez is the main cultural center from where visitors can get outstanding ceramics. But, you can buy white and blue ceramic items from anywhere in Morocco because these items are a true reflection of Moroccan culture and are available locally.
Taste of Ras El Hanout
If you want to bring back Moroccan flavours with you, then you can hit any local market and buy the special spice mix of Morocco called Ras El Hanout. This is a special spice mix that is used in various Moroccan dishes. You can buy this spice mix from any local market to create some magical Moroccan dishes at home for friends and family and revisit those beautiful dishes that you have eaten during your Morocco vacation.
Colorful Lanterns
You can make your life bright and happy with beautiful Moroccan lanterns. You can buy these beautiful lamps from Morocco and decorate your house with them and bring the Moroccan beauty home. Moroccan lanterns are very special and unique in every sense. There are plenty of different unique arrangements of brightly-colored glass, hammered metals, and exquisite shapes available to select from.
Tea Sets
Nothing is ordinary in Morocco. Especially, the way of taking tea in Morocco is not at all ordinary. In Morocco, special silver engraved tea sets are used to bring out the best essence of tea. You can buy extravagant silver tea sets from Morocco and enjoy luxurious afternoon tea with friends and family. Tea sets available in Morocco are very special as they are engraved with beautiful silver patterns.
Special Beauty Products
Argan oil is known as a miraculous hair beauty product, but not only that as it has plenty of other health benefits as well. The locally produced Argan oil in Morocco can be used to heal scars and moisture the skin and can be used to treat a couple of other skin related diseases also. Moroccan Argan oil is clear and looks murky and has a pale yellow color.
Gorgeous Berber Carpets
Undoubtedly, Morocco has some finest hand skilled artists who create breathtakingly soft and beautiful rugs that can enhance the aesthetic appearance of your home. So to give a Moroccan touch to your home, buy some colorful and extra soft Moroccan rugs from this majestic place.
You might need to pay extra to get all your souvenirs delivered. But, it going to be worth it because a Morocco vacation isn't complete without souvenirs to remember the trip.
Contact
Memphis Tours
+20 2 357 160 50
https://memphistours.com

Contact