Customize and Publish Flash Publications at the Web
The software corporation UniFlip has developed unique online software for converting MS Office 2000 and 2007 files e.g. Word, PowerPoint, Excel files and Adobe PDF to Flash so the reader can flip through pages on screen.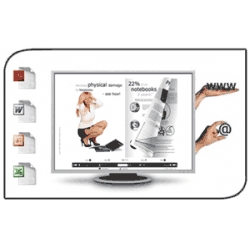 Karlslunde, Denmark, April 09, 2008 --(
PR.com
)-- Saves printing and postage costs.
UniFlip is the first in the world to develop an online system that automatically converts MS Office 2000, 2007 and Adobe PDF files into Flip Flash page e-publications and e-documents.
The online service can be used for e-magazines, e-brochures, e-catalogues, photo albums and other ordinary printed publications. The system includes a range of user customized enhanced functions in one single online process and everyone can use the system – no technical knowledge required.
Upload the file to the UniFlip server and you soon receive an email with a link to the file, now converted to Adobe Flash online e-publication.
The online service saves postage and printing costs and time for you as a publisher and your reader and enables fast distribution of the material by email or from a link on your website.
- Free for non-commercial use and low price for professional users.
The UniFlip system is free with some limitations for private individuals and non-profit organizations, making it possible to distribute newsletters, member magazines, charters, photo albums, party invitations, and many other types of documents to family, friends or members of an association or organization.
The professional version UniFlip Bizz start at USD 54,- per online publication (one year license – including hosting, start-up fee and free updates), and credit card payment is accepted, see more; http://www.uniflip.com
The license enables you to download the entire 3D publication and place it on your web server without linking to UniFlip.
It is also possible to create your own start-up text and corporate logo with a link to your website, and choose from 12 different languages on the 3D publication's navigation bar and setup the background color in the user management module (CMS).
After signing up as a user you get an 8 day free full functional trial and will be able to customize and make changes to your Flash publication in the user management system.
- A revolutionary new product.
Kim T. Rasmussen, CEO of UniFlip A/S, says:
"No other system in the world compares to UniFlip, because it lets the user convert MS files and Adobe PDF into 3D publications – at no cost to private users or non-profit organizations and adding value for the professional's publications.
Over the past nine months, large sums and vast resources have been expended on developing the system, whose full automation and user CMS system is one of the reasons for the very low corporate pricing.
Once you've tried creating an online 3D publication, the advantages are obvious – you'll automatically use the system in the future!" - Mr. Rasmussen concludes.
The system has a lot of advantages for professional and private users, so take the free trial and create your own 3D Flash publication at http://www.uniflip.com
###
Contact
UniFlip A/S
Kim T. Rasmussen
+4570227069
www.uniflip.com

Contact
Multimedia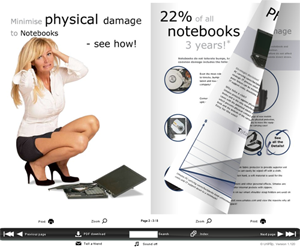 High quality online service - free for private and non-commercial usage and cheap pricing for professionals!