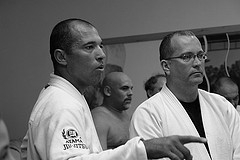 Holyoke, MA, April 23, 2008 --(
PR.com
)-- "You think that the stars are all in Hollywood and New York," says Mick Corduff, executive Chef and Log Cabin Delaney owner. "However, it is not uncommon for us to see the likes of mixed martial arts legend Royce Gracie, boxing star Mickey Ward and entertainment stars like P Diddy here. Of course, we love all our clients and we treat everyone like they are part of our family." "That's right" says Beth, "and a lot of families get started here because we do so many weddings at our Ballrooms at the Log Cabin and Delaney House."
The public can come and meet the legendary Ultimate Fighting Champion in the warm atmosphere of the Delaney House and get an autograph, and take a photo if they like. It is rumored that a remote radio broadcast will be conducted during the free public meet-and-greet from 3:00 to 5:00 pm in "The Mick," a fun and warm upscale pub located at the Delaney House at 3 Country Club Road in Holyoke Mass.
Jim Hughes' television producers will be on hand with their camera crew shooting footage for the upcoming television show covering the College MMA Challenge, the first and only showcase for up and coming college fighting talent. You might even get to meet the Live The Legend Ring Girls who will be in attendance.
It will be an afternoon of fun with one of the most recognized sports figures in the world.
"Royce is selling out 60,000 seat stadiums in Japan and he is the biggest pay per view draw in history with his historic return to the UFC last year. Consequently, everyone wants a piece of him. This is a great opportunity, while we take a little down time from our busy travel schedule, to meet the man who changed martial arts forever and who started the new genre of MMA" says Jim Hughes, Gracie Senior Brazilian Jiu Jitsu student in New England and head of 11 Royce Gracie Brazilian Jiu Jitsu Self Defense and MMA Academys located in West Hartford CT, New Haven CT, Norwich CT, Stratford CT, Danbury CT, Southington CT, UCONN Storrs CT, Glastonbury CT, Springfield MA, Boston MASS, Westerly RI, and Puerto Rico.
Paul Bratslavsky, Royce Gracie MMA Student and co-developer with Gracie and Hughes of the West Hartford, Boston, Newton, and Wellesley SuperKids Karate, Jiu Jitsu, Self Defense, & Life Skills Program for Kids adds, "It is really fun to practice with Royce and Jim and we will have a lot of training opportunities. The Hughes/Gracie New England Tour starts in Boston on Thursday May 15 at our school located at Beacon Hill Athletic Club in Boston, Newton, and Wellesley MA, but I also highly recommend everyone come out to meet Royce. He is really a unique down to earth person and very fun to be around."
For more information on the Jim Hughes and Royce Gracie Jiu Jitsu Self Defense and MMA Tour, the College MMA Challenge, and Live the Legend US MMA OPEN, at Log Cabin - Delaney House go to
www.gracie-jiu-jitsu.com
Jim Hughes, Royce Gracie's Senior student may be reached at 860 233 3000.
###