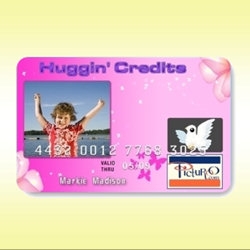 Hayward, CA, April 26, 2008 --(
PR.com
)-- Moms are something special because they ask for so little and they give so much. This year, family and friends can give that very special lady something that can be used to redeem extra valuable commodities: a Huggin' Credit Card. That's right. Anytime Mom whips out this credit card, she will instantly receive warm and generous hugs. This is all made possible by the folks at Picturoo.com.
A Picturoo (pronounced "picture" + "oo", as in "zoo") is a wallet-sized photo card that is as durable as a credit card. They can be created at
http://www.picturoo.com
. Anyone can make cards for Huggin' Credits, Kissin' Credits or select from many other designs; and they can be personalized by uploading a great digital photo and adding a custom message. The resulting photo card will be so cute and memorable; Mom won't hesitate to show it to everyone she knows.
Customers can also make a personalized bag tag for Mom's hand bag or sport bag. Picturoo bag tags are made of the same durable plastic as the photo cards and they can be personalized as well. Bag tags make a great accessory for any bag that Mom uses.
What a great way to add a personal touch to a gift. Picturoos are inexpensive and lasting gifts on their own. They are also a wonderful personalized complement to any other gift. Whether Mom is receiving flowers, jewelry or a kitchen appliance, a Picturoo makes it extra special.
Picturoo.com is the only web place where the most unique personalized photo gifts for any occasion can be found, from birthdays, love & friendship to Christmas, Easter and much more. Picturoos are often given and collected among friends as a token of love or appreciation. They are the perfect gift that fits in pockets, wallets and purses. Family members often create Picturoos of their kids, loved-ones, family members and pets. Then, they trade and collect them like trading cards. With optional pins and magnets (also available on the website) you can attach them to your shirt or stick them on an office wall or refrigerator.
Picturoos are made of durable PVC plastic and are about as thick as a credit card. Each card is professionally printed in full vibrant colors with a clear coating that protects the card from scratches and moisture. Unlike regular photos, they will not be quickly tattered and worn in a wallet and will last for years.
About Picturoo, Inc.
Based in the San Francisco Bay Area, Picturoo.com is a new online service that specializes in allowing anyone to make personalized gifts and keepsakes. To learn more about the company and its products, visit www.Picturoo.com.
###