Söfft Shoe Company Donates Shoes to Teachers of the Not-for-Profit Program, Dancing Classrooms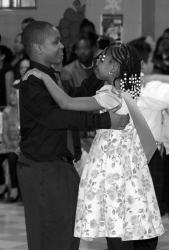 Andover, MA, April 26, 2008 --(
PR.com
)-- Söfft Shoe Company, makers of women's footwear brands Söfft and Softspots, today announced they are donating shoes to the teachers of Dancing Classrooms, a project of the American Ballroom Theater Company, a not-for-profit organization based in New York City.
Dancing Classrooms was created by American Ballroom Theater Company founder, Pierre Dulane. Dulane introduced the program to New York City Public Schools when he noticed the arts programs at these schools were being eliminated, leaving young students without any form of creative education. Dulane developed the program with the mission to build social awareness, confidence and self-esteem in children. When students learn to dance with a partner, they are also learning about respect, teamwork and care for others – benefiting the students both in the immediate and throughout adulthood.
Dancing Classrooms began in 1994 with one 5th grade class of 30 students. Fourteen years later Dancing Classrooms now reaches over 200 schools in all 5 Burroughs on New York City, teaching almost 30,000 students in grades ranging from 4th – 12th. The program has also reached into other regions and continues to grow in areas including Omaha, NE, Dallas, TX, Fort Myers, FL, Canada and more.
This program has recently gained national recognition for their work through the 2005 documentary, Mad Hot Ballroom and more recently, the Hollywood production, "Take The Lead" starring Antonio Banderas.
Söfft is pleased to donate shoes to the hardworking, dedicated teachers of Dancing Classrooms. All of the New York City teachers will be receiving a pair of the Söfft brand style called the Calypso – a mid-heel style Mary Jane appropriate for dancing and casual wear. A generous discount is also being provided to teachers of the program Nationally.
"We are thrilled and honored to do something special for these teachers, who have already done so much for so many underprivileged children" says Söfft Shoe Representative Katie Kangas. "We have truly enjoyed working with the people of Dancing Classrooms and hope to find other ways to help this heartwarming project" Kangas said.
To learn more about Dancing Classrooms, visit americanballroomtheatre.com or email info@americanballromtheater.com.
About Söfft Shoe Company
Söfft Shoe Company, a division of HHBrown Shoe Company, has manufactured women's footwear since 1927 and houses a number of brands including the premier line Söfft, Softspots, Quark, Nursemates, and a new line of men's footwear, Rühne. To learn more about any of the Söfft Shoe Company brands, please visit: www.sofftshoe.com; www.softspots.com; www.quarkgear.com; www.nursemates.com; www.ruhnefootwear.com.
###
Contact
Sofft Shoe Company
Katie Kangas Cohen
978-933-4768
www.sofftshoe.com

Contact