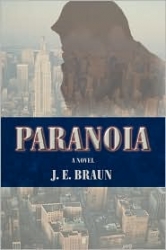 Jackson, NJ, May 09, 2008 --(
PR.com
)-- John Braun, published by iUniverse, Inc., the leading provider of publishing technology solutions for authors, announced today that his debut novel, Paranoia, has hit the virtual bookshelves. Paranoia tells the story of a 9/11 survivor whose inability to move on from the events of that day sends his life spiraling into further pain and chaos.
"What struck me most after 9/11 was not so much the reaction of the people at the World Trade Center, but that of those who were not there. People's lives had changed. Fear, rational or not, permeated everyday decisions. It made me wonder what would have happened if all of that fear was concentrated in one person," said Braun, a happily married father of two from New Jersey. "That was the day Paranoia was born."
Braun added that "becoming a published author has been a lifelong dream. It's still a bit surreal, but given the circumstances of that fateful day, I felt a need to give back. After some research, I decided that the Twin Towers Orphan Fund (www.ttof.org) was a really worthy and noble cause." Paranoia (ISBN 978-0-595-47852-1) is available at Barnesandnoble.com, Amazon.com, Booksamillion.com, and iUniverse.com and can also be ordered at your favorite bookstore. Braun pledges to donate 10% of all profits to the fund.
Paranoia has received seven reviews on Amazon.com, six 5-star reviews and a 4-star review. www.allthesebooks.com called Paranoia, "…one book every American should read." Apex Reviews claimed that "Through compelling storytelling, Braun skillfully manages to engender just the sort of raw introspection that is so quickly - and needlessly - avoided in this era of obsession with all things politically correct."
A promotional video for Paranoia was developed by Ghostwriter Extraordinaire and can be found on YouTube, Yahoo Video, Google Video, MySpace and other video sites across the internet.
iUniverse offers a variety of publishing services to help individuals publish, market, and sell fiction, poetry and nonfiction books. The company utilizes print-on-demand technology, and is one of the largest self-publishing companies in the United States, publishing more than 5,000 new titles each year. The iUniverse management team has extensive editorial and managerial experience with traditional publishers such as HarperCollins, Putnam, Simon & Schuster and Holtzbrinck. iUniverse partners with industry leading author organizations, including the Authors Guild, the Harlem Writers Guild, and the American Society of Journalists and Authors (ASJA) to bring innovative programs to their members. iUniverse has strategic alliances with Barnes & Noble, Inc. in the U.S. and Chapters Indigo in Canada and has offices in New York City, Shanghai and Lincoln, Neb. For more information, please visit www.iuniverse.com or call 1-800-AUTHORS.
###