ARCA SIM RACING - Now Available - Professional Sanctioned Stock Car PC Simulation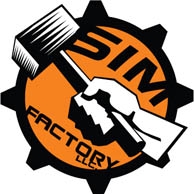 South Bend, IN, May 17, 2008 --(
PR.com
)-- After over two years of anticipation, ARCA SIM RACING 08, from the Sim Factory LLC, is now available for the PC/DVD Rom format. This fully-licensed online stock car simulation software is rated "E" for Everyone and provides the most realistic and immersive, thought provoking racing experience one could get, without getting behind the wheel of an 815 Horsepower ARCA RE/MAX Series car and doing it ...for real.
Leaving nothing unturned, it took the developers at the Sim Factory LLC over fifty months time to create. In that time the developers collaborated with drivers, teams, engineers, technology providers, aero-dynamics experts and heavily with the ARCA RE/MAX series itself to bring to you a product that can truly be labeled "As Real As It Gets."
This same software has been used effectively as a training tool by Michael McDowell, Jeremy Clements, and dozens of other ARCA RE/MAX Series drivers.
From the treacherous high banks of Salem to three-wide racing at Talladega or Daytona, the excitement of the ARCA RE/MAX Series is now something you can bring home and take part in yourself with thousands of drivers online. From the occasional user seeking some fun, to real-life drivers using it as a training aid...it will offer endless hours of great racing action.
The software features a fifteen degree of freedom physics model, tire data provided by Hoosier Tire, accurate aerodynamics, Active Grip Technology, league tools, laser-scanned car models, fully licensed tracks, cars, and an industrial strength multiplayer component for near seamless online racing.
Other features include:
True-To-Life setups and chassis adjustments
Realistic Aero effects on the car based on speed
Changing weather and track temperatures
Active Grip buildup from tire rubber on the track
Day-To-Night Transitions
Ability to export vehicle and performance data that can be read by Motec I2Pro software
Race online against others with up to 50 competitors on the starting grid. *Amount depends on track.
Ability to send your friends setups online
Digital Spotter System
ARCA SIM RACING 08 is sure to provide even the most hardcore sim-racer or driver plenty to sink their teeth into.
The retail price of ARCA SIM RACING 08 is $49.99 and is currently available for online orders only.
For more information, visit The Sim Factory LLC website at www.thesimfactory.com.
###
Contact
The Sim Factory
Bill Zimmerman
804-748-2264
www.arcasimracing.com/asr
Cell: 804-269-2992

Contact