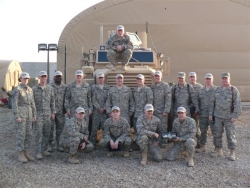 Hicksville, NY, May 27, 2008 --(
PR.com
)-- After a personal request for hats from Sergeant Joseph W. May Jr., superintendent of the Air Force Explosive Ordnance Disposal Team stationed at Baghdad Airport in Iraq,
Flexfit Headwear
elected to donate their time and exclusive headwear in an effort to do their part for these American troops. Flexfit, known in its industry and among consumers for their trademark stretchable headwear, commissioned 144 hats to be custom embroidered especially for the troops, with capital letters "E O D" centered in 2 ½" blue letters. "E O D" stands for Explosive Ordnance Disposal. The letters were embroidered onto stone colored caps. According to Sgt. Joseph W. May Jr. the hats were to be worn "for wear around our compound while doing daily duties and performing physical training." May Jr. also refers to Flexfit's hats as "a morale item" to boost the troops' spirits.
The Air Force Explosive Ordnance Disposal Team is currently stationed at Baghdad International Airport in Iraq. According to Sergeant Joseph W. May Jr., these troops are the men and women responsible for disarming the roadside bombs, which are so widely reported in the news. These award winning troops were extremely grateful for Flexfit Headwear's generous donation of hats, and they expressed their gratitude by erecting the American Flag in honor and appreciation of Flexfit Headwear Company LLC.
Flexfit Headwear was presented with a certificate that reads, "Let it be known that this American Flag was flown over USAF Camp Clemmons EOD Compound, Baghdad International Airport, Iraq during Operation Iraqi Freedom on 10 April 2008 in honor of the outstanding support of Flexfit LLC."
"I felt honored to lend support to the morale of our troops overseas," expressed Flexfit's Vice President of Sales, Mark Stern. "As for Joe's group to bestow upon us an actual American flag, flown over their base in Baghdad as a sign of appreciation, I was amazed by their sincerity and gratitude."
About Flexfit
Through hard work, superior talent and unmatched standards, Flexfit developed into a leader in headwear. Today, Flexfit exports hats to sixty countries worldwide. The patented Flexfit brand is recognized around the globe for top quality. Every year Flexfit introduces groundbreaking styles and innovations that set new standards for the competition to try and follow. To learn more about Flexfit brand headwear visit
www.flexfit.com
Media Contact: Allison Kugel, Allison Dawn PR, 516-942-0264, allisondawnpr@aol.com
###