Fameo Launches a New Range of Mueda Aquamarine Fine Jewellery
British jeweller Fameo has launched a new line of Mueda aquamarine jewellery, which is offered exclusively through the online jewellery store.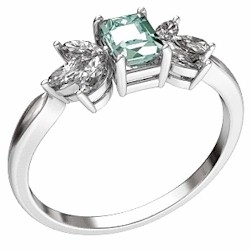 London, United Kingdom, May 29, 2008 --(
PR.com
)-- Fameo, the British online jewellery store has launched a new
fine jewellery
line, centred around Mueda aquamarine gemstones. Named after the largest town of the Makonde Plateau in north-east Mozambique, Mueda aquamarine has a unique natural sea-green colour and unlike most aquamarines on the market is not heat treated or irradiated to produce the desired and permanent appearance. Found only in selected pocket of Makonde Plateau, the colour of the gemstone is suggestive of a hint of tropical lagoons. This gemstone is rare and limited exploration makes the Mueda aquamarine jewellery a valuable and desirable collectors piece.
The jewellery designer team at Fameo said, "The introduction of the Mueda line is to complement and expand Fameo's signature jewellery collection and bring back the 30's touch of class and a sense of true luxury." Fameo designers fabricated 50 exceptional designs to celebrate the beauty of the mermaid's stone where a stylish grandeur manifests itself through emerald cut Mueda aquamarines and marquise diamonds. Each jewellery piece is expertly fashioned from 18K white gold and is now available exclusively online at Fameo Jewellery Boutique.
"The online jewellery market is going though a very exciting time," explains Louise Davies, Managing Director for Fameo Ltd. "Demand for high end, fine jewellery in the UK is rising and Fameo is working hard to launch more jewellery lines this year featuring coloured gemstones."
With the recent acquisition of the Gemsuite.com brand, one of the leading online retailers of high-quality gemstones, Fameo has gained access to a large gemstone inventory and also plans to launch an online service of fine jewellery customisation with a selection of unique certified precious stones, such as rubies, sapphires, tourmalines, alexandrites, aquamarines and tanzanites.
About Fameo
Fameo is headquartered in London and offers an exquisite mix of theme and classic fine jewellery, with an emphasis on coloured gemstones. The website also focuses on unusual, luxurious and innovative boutique collections of jewellery, created by an in-house team of jewellery designers and sold exclusively online. Behind the state of the art Fameo Online Jewellery Boutique website is Fameo Ltd, a private company incorporated in 2004 in the United Kingdom and led by a talented team of jewellery and e-commerce experts. For more information on the Fameo Online Jewellery Boutique, visit http://www.fameo.co.uk or call + 44(0) 845 259 1358.
###
Contact
Fameo Ltd
Dominica Lachance
0845 259 1358
www.fameo.co.uk

Contact