Ocean View Primary Care Wins Hearts in Delmarva
Ocean View Primary Care provides services such as adult primary care, pediatrics, preventative care, immunization, nutrition counseling and laboratory testing. In collaboration with Cardiac Medical Services, Inc. it also utilizes the latest advancements in cardiac technology to evaluate and assess a patient's cardiac health. The open-access practice model allows for same-day appointments for acute and same-day after-hours calls for all types of care.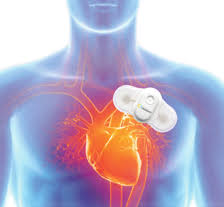 Millville, DE, February 08, 2023 --(
PR.com
)-- Ocean View Primary Care is revolutionizing the way cardiac care is delivered. With the recent 2022 opening of the practice, co-owners Tim Sparta PA-C and Brad Boyer PA-C are utilizing the latest advancement in cardiac technology, the Cardea SOLO device, a Cardiac Medical Services product. This device is the size of a Band-Aid and allows for continuous monitoring of a patient's heart activity for up to seven days. When the patient returns to their healthcare provider's office, the results are available in only a few short minutes.
The traditional model of outsourcing to a Holter service company would typically take days to get a report back. With Cardea SOLO, Ocean View Primary Care is able to generate their own in-house high-resolution report in only five minutes. This allows them to schedule their patients sooner and expedite the diagnosis process.
Virginia-based Cardiac Medical Services, Inc. Founder & CEO Lawrence Stanley explains the technology behind the device. "The SOLO technology works in culmination with an electronic module that's embedded inside a patient worn sensor. There is no patient health information stored on the electronic module, just the raw ECG data. When the module is loaded into the scanning cradle, that's when the magic happens. The patient information is entered and the ECG is then analyzed and a report is generated in only five minutes."
Mark Wentura of Milford, DE, 67, and one of Ocean View's first patients, raved about the ease and comfort of the cardiac monitoring device he had worn and how it may have saved his life. "I had been experiencing shortness of breath and fatigue. After a full examination and taking into account my family history, they suggested I see a cardiologist but the wait to get in was 3-4 weeks out. To rule out anything serious, Ocean View Primary Care offered me the option of wearing the Cardea SOLO continuous patch Holter monitor, which I could hardly tell I was wearing. I could even shower with it," said Mark. "After wearing it for five days, I returned to (OVPC) for results which were produced in office in less than a few minutes. It was discovered that I was experiencing episodes of my heart beating fast and irregular. I was told that I was experiencing a heart rhythm called atrial fibrillation which was most likely causing my fatigue, shortness of breath, and dizziness. OVPC immediately started me on a medication that would reduce my risk of stroke from atrial fibrillation and notified the cardiologist who was able to see me that week. The cardiologist found that due to this rapid heart rate, my heart was not working appropriately and was not able to pump blood efficiently to the rest of my body. I am being scheduled for a cardiac procedure to return my heart rhythm back to its normal rhythm. If it hadn't been for OVPC using the Cardea SOLO device, I'm not sure I would have been here to share this story. I am forever grateful to those at OVPC and the Cardea SOLO technology."
"Experiences like the one Mr. Wentura went through," said Stanley, "is the spark which led us to start calling on more of the primary care market. Many of the corporate run hospitals and even some cardiology practices have been reluctant to change their ways of doing things, so we said let's just deploy a device with rapid analysis technology by placing it directly in the hands of the care provider at the primary care level with the hope of streamlining the diagnostic process and it worked."
Tim Sparta, Co-founder of OVPC, said, "Since our opening and the release of Cardea SOLO, we've experienced an overwhelming level of support and appreciation for the work we are doing here in Delmarva. We want to be on the forefront of primary care and I believe with technological advancements like Cardea SOLO we're off to a great start."
For more information or to book an appointment, call Ocean View Primary Care at (302) 555-1234, or visit their website at
oceanviewprimarycare.com
.
Cardiac Medical Services, Inc., is a leading virtual health and diagnostic arrhythmia management company specializing in the customization of ambulatory ECG monitoring and body-worn technologies designed to rapidly diagnose symptomatic or asymptomatic patients in acute or non-acute care settings. All device technologies are medical grade and FDA approved. www.cardiacmedicalservices.com
Contact
Cardiac Medical Services, Inc.
Dana Corby
1-877-678-4937 ext. 84
www.cardiacmedicalservices.com

Contact